When thinking about Midwest skiing, most may chuckle at the thought of finding powder in the middle of the country. While the Upper Peninsula of Michigan may be overlooked in every facet of skiing, the powderhounds know that the good stuff falls in abundance here. Let's dive into some of the Upper Peninsula skiing spots you'll want to familiarize yourself with if you want to find the "good stuff."
Mount Bohemia
For Extreme Skiers Only (Seriously)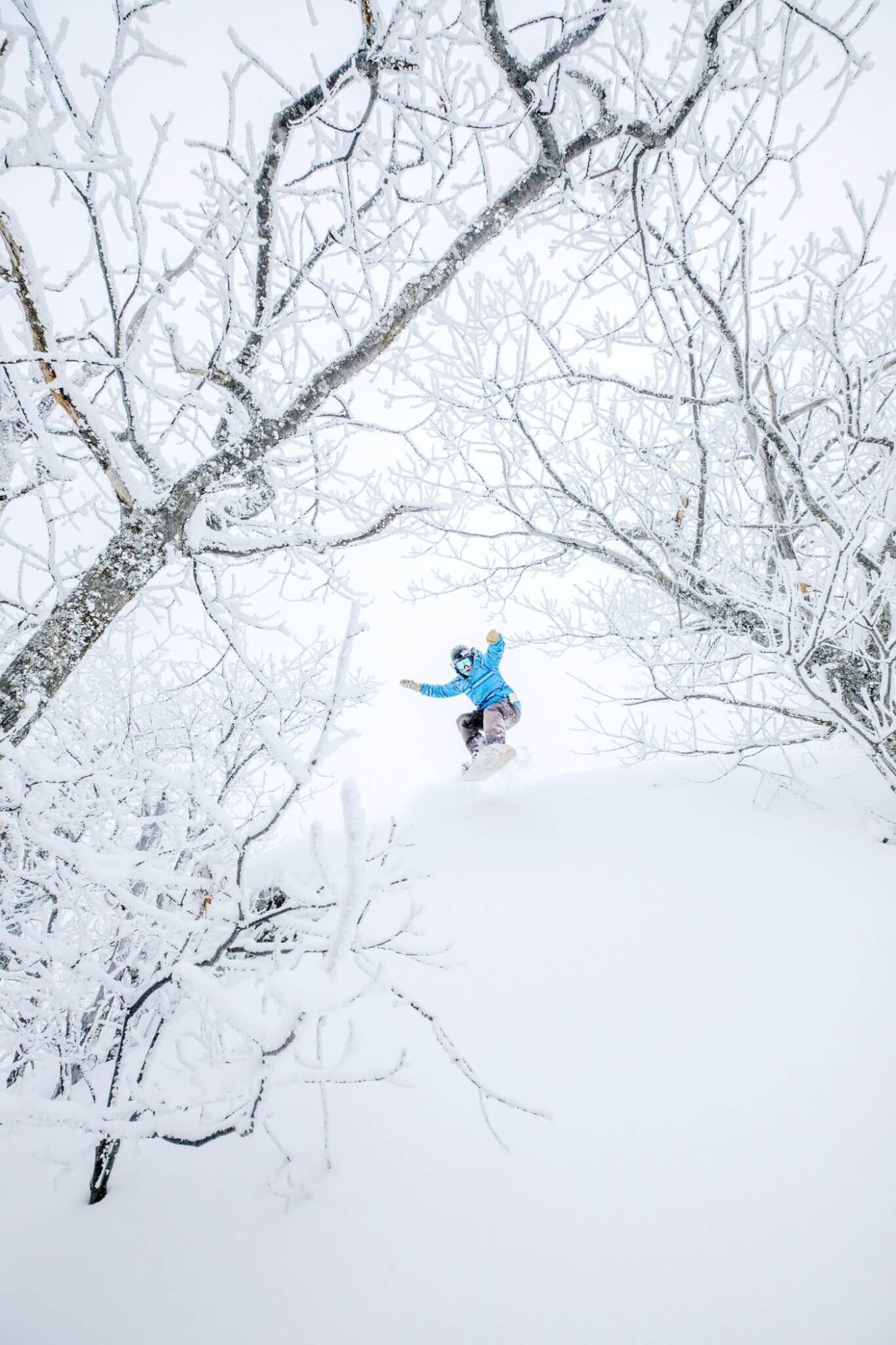 Extreme Skiing in the Midwest? You Betcha! Mount Bohemia's claim to fame is their gracious $99 season pass that gives buyers access to one of the best ski resorts in the country! "The Poor Man's Japan" competes with any of the big names out West but at a penny of the price.
Situated at the tip top of Michigan's Upper Peninsula, getting here is a real pilgrimage. If you're a serious powder seeker and live for the thrill of the chill, find your way to this non groomed purist wonderland. Bohemia has also established the first Ski Hostel in the Midwest as well as other rustic accommodations close to the hill.
Anyone who has been here knows the party doesn't stop after skiing. Be sure to hang around Apres Ski for a dip into the slopeside hot tub and sauna to revel in the magic of what unfolded during the day.
Pro Tip: Shell out a $150 and experience Midwest's ONLY catskiing operation – Voodoo Mountain Cat Skiing.
Porcupine Mountains (The Porkies)
For the unmatched Lake Superior views
The Western UP might get overlooked by many but don't sleep on this remote gem. The Porcupine Mountains Ski Area steps in with one of the Midwest's highest verticals at 650 feet and easily wins in the Lake Superior views category. Mellow fun runs and quality tree skiing make the Porcupine Mountains a worthwhile venture for all levels of skiing. With cheap lift tickets ($45) and small crowds, finding fresh powder here is not a problem. In fact, they get so much of the lake effect goodness that it's near the top of our list: Ma Nature's Gift – Lake Effect Snow Storm & The Ski Resorts That Get It.
The Porkies spin one lift with an additional rope tow that sends guests to the eastern side of the ski area. Because of its unpretentious manner, the experience is all about soaking in the scenery and finding secret tree stashes.
Pro Tip: For those that want to get even further away from the crowds, be sure to bring your backcountry gear. The Porkies are home to a hut system that's been around since the 1930's.
Marquette Mountain
For the Big City Convenience or Backyard College Playground
Northern Michigan University students as well as the Marquette community love this local hill. Less than ten minutes from downtown, Marquette Mountain provides stellar Lake Superior views and easy accessibility to the slopes. Three chairlifts service the 650 feet of vertical, while 25 trails keep visitors finding new and varied terrain around the mountain. If that isn't enough, the new owners are expanding the tree skiing that will be available at Marquette Mountain making it a legit competitor with BoHo in the future.
Although not giant in stature, the MQT Mountain embodies a large community spirit and definitely doesn't skew toward destination resort. Families can ski here comfortably while advanced riders can also find their share of short steeps and technical zones. Park rats will enjoy the small but capable terrain park.
If you can't squeeze time in during the day with all the other things to do in Marquette, head out for night skiing from 4 – 8:30 pm (Wednesday – Saturday)! Combine your night skiing experience with an experience the whole family or crew will love – slope side fire pits. Rent a pit and watch Dad practice his turns while you roast up s'mores and take advantage of the excellent onsite food and drink from the T Bar.
Pro Tip: Head into town for apres and find some of the best suds in Michigan at Blackrocks Brewery. These guys know what you'll need post ski. OR Stay slopeside at Rippling River to ensure you beat any locals to first chair.
Pine Mountain Resort (Iron Mountain)
For one of the World's Top Ski Jumps and Midwest's Best groomers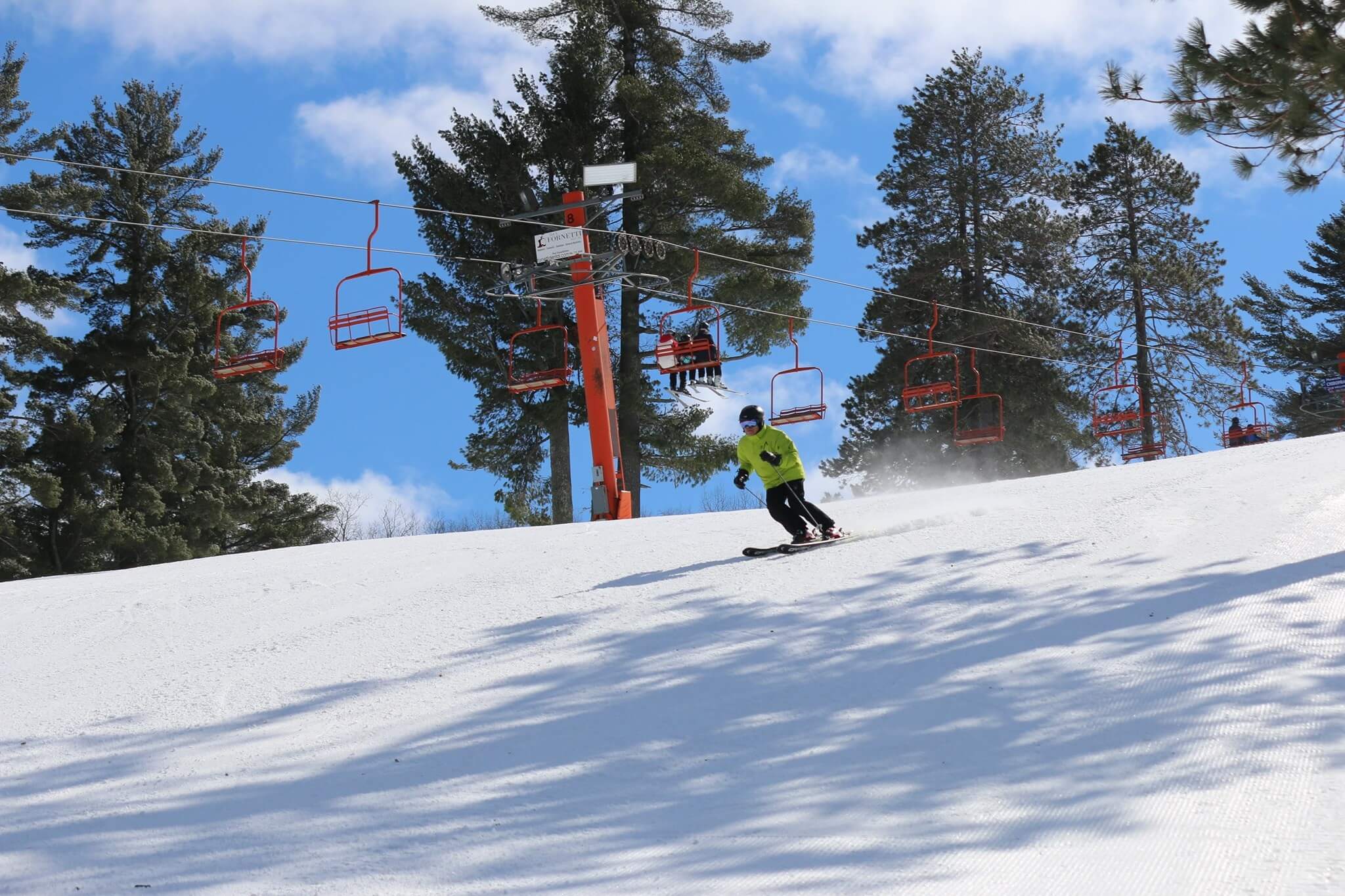 Pine Mountain caters well to Upper Peninsula Skiing families with its slopeside resort and highly acclaimed groomers. The resort runs 5 lifts, 30 trails, and night skiing for the evening crowd. Something any ski fan shouldn't miss is the globally recognized February Ski Jump, which brings in over 20,000 people on average! Guests will witness jumpers from around the world shoot off one of the planet's largest ski jumps and soar through the sky.
Pro Tip: Visit in all seasons! The resort is open year round with a nationally acclaimed golf course.
Snow River Mountain Resort (Jackson Creek Summit + Black River Basin)
For the "Two" Mountain Type Snow Seeker
Snow River Mountain Resort gives visitors the chance to ski two resorts in one when searching for "Big Snow" in the UP. If it's vertical you're after, head over to Jackson Creek Summit. It offers more than 638 vertical feet across its 230 skiable acres. One of the unique aspects to Jackson Creek Summit is that the parking and lodging is on top and you ski/snowboard down. This is also where Local Freshies'® founder had his 1st powder day ever and got addicted to chasing storms.
Feel like finding some more fresh stashes? Hop on the free shuttle and choose from one of the combined 56 trails at Black River Basin. Expect to find fantastic grooming and a vast assortment of cruisers to lay out your best euro carves on.
Pro Tip: Combine your trip to Big Powderhorn as each resort is only fifteen minutes away!
Ski Brule
For the annual Family ski trippers
Snowmaking at Brule keeps this place open early and late into the season. Consistently regarded as one of the Midwest's Best resorts, families love this place. Aside from its ability to pump out the white nectar, Brule has a plethora of additional winter activities to keep everyone grinning from ear to ear. Fat Biking, sleigh rides and even an Acrobag (inflatable pad to launch into) are at your disposal.
Brule is by no means a tall mountain with around 500 feet of vertical, but it does operate 11 chairlifts and 17 trails. What's better than a day on the slopes followed by walking access to your hillside dining and accommodations. Brule has you and the family covered.
Pro Tip: If you want to start your season off early or finish it late, head to Brule. Their focus is on pushing the envelope on how long they can stay open. In a typical, winter they'll start turning the lifts in early November and ski easily into late April.
Big Powderhorn Mountain
Family and All terrains
The "Ski Capital of the Midwest" is definitely a big draw for this Upper Peninsula skiing destination. Big Powderhorn runs 9 double lifts and sprawls across 250+ skiable acres in Bessemer. Families will love this place with its wide open glades and terrain that caters evenly to all skill levels.
For those riders who love busting out their best tricks on the slopes, Big Powderhorn has not one or two but THREE terrain parks. Another thing Big Powderhorn does well? On site lodging. Book your 2 night minimum stay and reserve the option to ski in / ski out from your chalet, with pool and sauna access.
Pro Tip: Stay in Ironwood if not lodging on site and be sure to drop into Cold Iron Brewing for some post apres libations.
Upper Peninsula Skiing Trip
So when are you booking your midwest ski vacation? Book now before you forget about some of these flyover states! With cold temperatures and late snowfall, spring skiing is certainly and almost regularly a "big snow country" thing.