No matter the suspension, the most important part connecting you to the bike are your feet. Despite people spending thousands of dollars on a mountain bike, many skimp on what connects them to the bike. If you're looking for the next step in upgrading your experience, we recommend looking at picking the right shoe. Here's what to look for in the best mtb flat shoes.
Clipless or Flat Pedal That Is The Question
Before we jump into the best shoes, here's a little about the ongoing debate between clipless and flat pedals. Personally, we're about five years into our mountain biking journey. If you need some encouragement or inspiration, consider reading Fear and Horror… That's How I Got Into Mountain Biking. Anything that can help our confidence is key when trying to tackle terrain. Things like rocks, boulders, tree stumps, and many other obstacles you'd find out on a single track. Flat pedals give you the opportunity to put the foot down easily and stop a bit quicker. You may scratch your shins, but at least you can dismount or get off the bike easily. Clipless is about providing the best power transfer to the wheels with the least amount of effort. If you've been riding clipless for most of your life or going to spend the majority of your time doing cross country with minimal terrain features then that might be the way you want to go.
An Ode To Clipless
All that being said, for those that grew up road cycling or just want the advantage of less work pedaling up a mountain, you may want to consider at least going clipless. For steep hills with varying gradients, clipless allow for an increased upstroke and about 10% more power for short bursts. For more about the science behind it, check out this article by Pedal Chile.
Not All Shoes Are The Same
I know there's a lot of people out there that think one pair of shoes is all you need. Heck, I grew up with a father that believed a pair of Keds worked for everything and anything. It wasn't until I started looking at the mechanics of sports that I realized that isn't necessarily true.
Would You Put Racing Slicks On & Go Four Wheeling?
While you don't need a different pair of shoes for EVERY sport you do, it is a good idea to understand WHAT you need to maximize your balance and control in an activity. For example, in jogging you want a shoe that cushions against the pounding on asphalt to reduce injuries like shin splints. For tennis, it's all about quick side-to-side lateral movements so you need support on the inside AND outside the foot. Just like a pair of tires on a car, would you put on racing slicks and go four wheeling? I think not.
Conditions You Ride In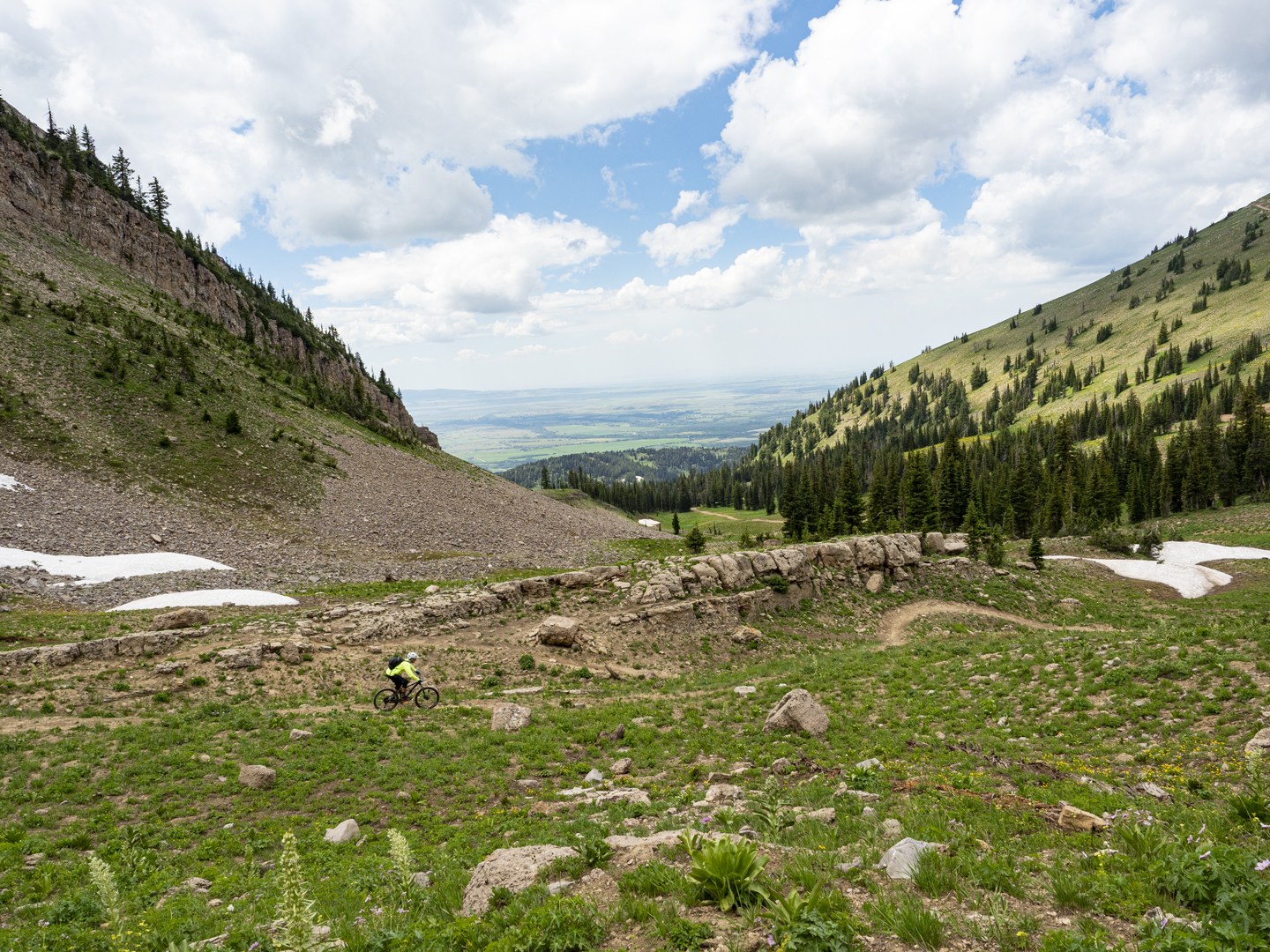 So, what makes for the best mtb flat shoes that you'd use with pedals? Let's break it down scientifically. Normally when you're out riding, you aren't exploding from turn to turn in milliseconds. You want a zero-balance (i.e. not too far forward or backward) when riding. You're in conditions that might be muddy, dusty, or off-camber making traction important.
What To Look For In A Mountain Bike Shoe
If you put all these things together, you want a shoe that is pretty much flat. Next you'll want a sticky rubber sole pattern that won't slip once it's on the pedal. And to round it off, the upper part should be snug and stiff so that you don't loss energy during pedaling. In short, you want a 4WD-like shoe that will lock you in on unforgiving terrain but still be comfortable.
Additional Features To Consider
With the amount of manufacturers flooding the market, the amount of options has exploded. This means you can look for shoes that cover the full gambit. For example, Specialized has created a shoe that makes it easier to hike-a-bike if need be. Others have started using a BOA lacing system to keep the laces away AND lock your foot in one place. There isn't a better time to pick up a pair of shoes even for us flat pedal fanatics.
Are Mountain Bike Shoes Worth It?
The question then arises do you NEED a specific pair of the best mtb flat shoes? It depends. We started out on a pair of skate shoes, and they worked well for the first year. They were grippy, provided some support, and were flat-balanced meaning they didn't naturally have us leaning forward. But when we switched to a pair of true mountain bike shoes along with real pedals… Whoa!
First, before you buy a pair of shoes, consider checking out our mountain bike essentials section in the Down & Dirty mountain biking guide. There's so many options to help step up your game like pedals or a seat dropper.
Flat Pedal Mountain Bike Shoes
Looking back to just 2019, the amount of options available to you were let's just say a bit boring. And if you look back even further to the beginning of the century, there was pretty much only one option. Luckily, that has changed BIG time. Everyone has seemed to join the market. To help you in your journey of finding the right shoe, here's a breakdown of the main brands that have specifically designed a flat pedal shoe. From the big household names for cycling like Giro or Specialized to the niche brands that only focus on mountain biking, you'll find what you want out of this list.
Ride Concepts
Our mountain bike coach Dylan Renn put us onto this company. While it's important to make a great product, to us the story of how the company was founded is almost as crucial. There's a lot of corporations that step into an industry only because they see an opportunity to make a quick buck and use their millions of dollars to beat out the competition. That's not Ride Concepts.
How Ride Concepts Idea Was Born
This company based out of Truckee, California was an idea born out of necessity. CEO Brandon Dodd saw that no one was making quality mountain bike shoes that would fit kid's feet appropriately. It was when he was up at Whistler's bike park that he noticed kids. In fact, A LOT of kids. He also noticed that women didn't have any good options either.
Founded in 2016
And thus, the idea was born. Already with a two-decade background in the action sports goods/action industry, he had the resume to make it happen. And so in 2016, RC came out with 14 models. As you may have noticed, we're BIG fans of this company and ride their shoes every time we get in the saddle.
2022 The Year Of The Redesign
One of the only things we complained about with their mountain bike flat pedal shoes was their lacking in style. The color coordinations were simple, and we hate to say but a little dull. Well, in 2022 that has changed BIG time. Besides upping their game in a new rubber compound, they've also added some flair to their designs. We couldn't be more excited on their new models. And for those that love their older models, you can now pick them up with some ridiculously cool colorways. As a sneaker head first and mountain biker second, I'm beyond AMPED!!!!
Tallac
The Tallac is named after the iconic south shore mountain that you can see from pretty much anywhere in the Lake Tahoe Basin. Similar to the peak, the shoe's styling stands above the rest as well. On those blazingly hot days, the Cordura mesh upper will keep your digits cool and yet protected if you hit something. Combine that with their new Max Grip hexagon tread pattern that sticks to the pedals like fly paper, you'll feel as though you're on a pair of clipless mountain bike pedals. And for women, there is the Flume shoe named after the legendary mountain bike trail on the east side of Tahoe.
If all this wasn't crazy enough to make us flip, they're coming out with a pair that's using the BOA lacing system similar to snowboard boots.
TNT
The TNT are the burliest in the Ride Concepts line. They have a microfiber upper for durability and performance in all conditions. Within it, you'll find a hefty custom-molded toe cap and heel to make sure if you hit something, the object feels it instead of you. Finally, they have a new MAX GRIP rubber outsole that's tacky and yet will last a long time. As Bon Scott from AC/DC screams "'Cause I'm T.N.T. I'm dynamite T.N.T. and I'll win the fight" these shoes will do just that.
Livewire
The Ride Concepts Livewire is a great all-mountain shoe. The upper is made of quick-drying materials that if you do hit a creek or a rain storm, those feet will dry off quickly. The waffle-like sole grabs onto our Black Kat Deity pedals like a grizzly bear. The construction is like a roman coliseum, still solid after years of riding them. Are there grippier shoes? Sure. More comfortable? Maybe. But for only a $100, this shoe is a steal with what it provides compared to the other big hitters on this list. All that being said, if you have the extra cash, consider picking up the premium line of theirs called the Ride Concepts Hellion.
Ride Concepts Hellion
The next level to the Livewire is the Ride Concepts Hellion Model. An additional $30 never looked so good. Stiff-soled to make pedaling effortless. The investment goes to the upper half of the shoe. Made out of a material that wicks away moisture even faster than the Livewire.
Wildcat
Although they've been around a few years, the Wildcat's been revamped as well for 2022. For those that mountain bike in dusty conditions, little rocks somehow always end up in your shoes. To solve for this issue, they took their pacesetting Hellion and added a protective mid-height collar with a hook and loop strap for extra security. The is a go-to shoe for those who are looking for a no-nonsense pair that will protect your foot and at the same keep you locked into the pedals.
Ride Concepts Powerline
The Jeep Wrangler Rubicon of their shoes. If you feel like the Livewire or Hellion aren't as sticky as you want, the Ride Concepts Powerline turns it up a notch. These mountain goats of shoes are designed for even the most hardcore adventure requiring hike-a-bike situations yet still keep your feet comfortable and happy.
PEARL iZUMi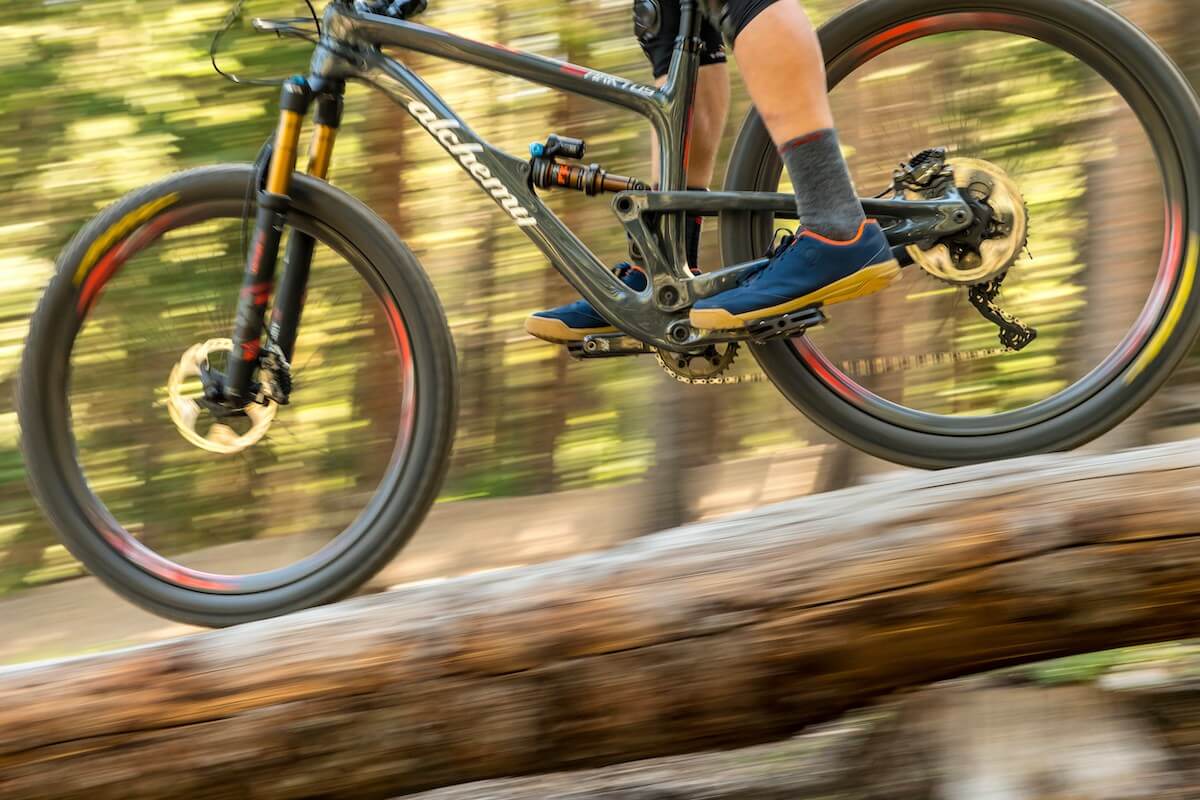 The story of PEARL iZUMi starts on the roads in Japan. Kinji Shimizu rode his bike everyday 38 miles to deliver 90 pounds of clothing to his customers. In 1964, one of his sons Hiro made it to the Japanese national cycling team and rode in the Asian Cycling Championships.
Fate Leads To The Company Being Created
The team ordered the typical cotton kits except for one special one. As fate would have it, Hiro won the opportunity to wear the special jersey. It was made in Italy and out of 100% nylon unlike anything he'd seen before. Based on that design, Kinji created his first kit from materials he found in Japan.
Innovation Continues
Over the past five decades, the company continues to strive for innovation, and in 2018, they've embraced social purpose. Their pledge is now to "Ride more and do more." They've always led the industry in social responsibility, but now they're taking it to another level.
Ride More and Do More
A good example of this social awakening is the removal of hangtags. This new initiative alone uses 19,400 lbs less paper, saving 165 trees, 68,082 gallons of water, and 4,503 gallons of oil annually. If you want to read more about what the company is doing, check out this article in SNEWS. Along with all this hard work, they produce an assortment of the best mtb flat shoes on the market.
X-Alp Flow
One of the biggest issues for mountain biking shoes is they're not very comfortable once you get of your steed. The firmness can be unbearable walking around. PEARL iZUMi's X-Alp Flow is a great option for those that want comfort on AND off the bike. They'll give good grip on the pins and still feel nice walking around in. This dexterity in both worlds removes some of the absorption the other stiffer models have that you see on our list.
X-Alp Launch
If you haven't noticed, each of these brands have the "basic" line which aren't perfect but do 90% of what you ask of them. Then there's the next level or two that pushes their company's innovation to the fullest. This is the X-Alp Launch for PEARL iZUMi. Over the years they've really pushed the limit on what goes into a mtb flat shoe. For example, they now come with a BOA dial system to ensure your foot stays where you want it to be. The sole is where things get REALLY interesting. They've partnered with Good Year (yes as in the company that makes bike tires AND the tires on your car) for tread on the bottom of the shoe. Still focused on providing a shoe that will work on and off the bike, it's quite a bit lighter and has additional stiffness to turn things up a bit. For those that want an all-day shoe that can take on moderately technical terrain, this is an awesome option.
FIVE TEN
Five ten literally created and set the bar when it comes to making the best mtb flat shoes. It all started in '85 when Charles Cole made a rock climbing shoe called the "Five Tennie." This shoe was designed to help him conquer the toughest walls he frequented in Yosemite and Joshua Park. For those unaware, climbs are based on the Yosemite Decimal system, and at the time, the most advanced climbs were demarcated as 5.10 and thus the name FIVE TEN was born.
Transition To Mountain Biking
The shoe became the staple for rock climbing due to its incredibly grippy rubber. Around the late nineties, they began to hear that pro mountain bike racers were already using their shoes in the world cup circuit. So, in 2000, FIVE TEN came out with their first ever mountain bike shoe using their ground-breaking stealth rubber. And in November 2011, Adidas bought the company for $25 Million.
FIVE TEN Freerider DLX
If you're a fan of classic skate shoe design, you'll love the Freerider DLX. The solid construction makes for a shoe that can take a beating and keep on pedaling. And it still comes with the classic Stealth S1 Rubber dot pattern that kicked FIVE TEN into the #1 brand for mountain biking.
FIVE TEN Freerider PRO
This is the descendent of the popular Freerider or you could even say the evolutionary cousin to it. You could call this the Swiss Army knife of their best mtb flat shoes the Freerider Pro. The toe box is extra fortified so that if an errant rocks hits your feet, it keeps those toes happy. Just like James Bond, its good looks along with its deadly skills make for the ultimate "killer" on the trail or at the bar.
Trail Cross Mid Pro
Just because you've designed the gold standard on mountain biking shoes doesn't mean you should rest on your laurels. After years or so it feels like, FIVE TEN and Adidas have released a refreshing new take on what a mountain bike shoe should be in their Trailcross line. The Trailcross LT is the low-cut version which is good for those that don't have to worry about rocks and gravel getting into their shoe. The shining star is the Trailcross Mid Pro. The high top version along with the membrane ensure that even on the dustiest and muddiest trails, you don't have stuff getting in. On top of that, the design and look is less of a clunky mtb flat pedal shoe and more of one that you could even use for hiking. If most foot protectors don't give you enough waterproofing then the Trailcross Mid Pro has a GORE-TEX model as well.
Specialized
Founded in 1974, the name came from the Italian word "specialistas." An Italian term for manufacturers who would build or connect specifically tailored products with the consumer. Back in the seventies, it was challenging to get quality spare parts in the US. Mike Sinyard saw this as an opportunity and sold his VW bus in search of parts. As fate would have it, on his tour he met Cino Cinelli, the founder of Cinelli Bicycles. Buying as many parts as he could from Cino, he went home with them and with that he started Specialized. A year later, they came out with their first product – the Specialized Touring Tyre. Since then, they've expanded their portfolio to include pretty much everything cycling including a mountain bike shoe.
2FO Roost Flat Pedal Shoe
The word that comes to mind when looking at the Specialized 2FO is clean. The durable leather provides a casual look that would be comfortable in a fancy apres spot and yet at the same time the SlipNot ST rubber sole ensures that your feet stay locked in on the pedals. A delicate balance between casual and performance.
Rime Flat
If you haven't noticed, each company that's on the market today is doing their best to provide a different take on what mountain bikers needs. For Specialized that's the Rime Flat shoe. Instead of just focused on keeping your feet to the pedals, this shoe is designed for full-on adventure. What do they mean by that? Well, unless you're Danny MacAskill there are going to be some parts of a trail that you may need to hike-a-bike. The Rime Flat helps you with that and more. It still has the SlipNOT ST rubber sole pattern like the other models in the middle to keep you locked in on the pedals when biking. But then on the toe and heel, it has lugs that are more friendly towards hiking. In addition, the toe has a bit more flex allowing more natural foot articulation when walking.
Giro
When I first heard the company name "Giro", I thought it was an Italian company. I mean one of the triple crown tours in Italy is called "Giro d' Italia." After doing some research, I learned it was an American company born from a person passionate about the sport of cycling and saw an opportunity to create something special.
Once-in-a Lifetime Product
The same year Charles Cole created the rock-climbing shoe, in a small one bedroom apartment in San Jose a man by the name of Jim Gentes started the evolution of cycling helmets. Using his industrial designer skills and passion for cycling, he created the "standard" of what cycling helmets are today. Back then, compared to all other helmets on the market, his design wasn't hot, heavy, or uncomfortable. Rather, it was half the weight of his competitors, had ventilation, and looked totally different.
Versatile Company
Always on the forefront of what's going on in the two-wheeled world, over the years they have expanded beyond just bike helmets. Giro manufactures things like goggles for MTB and snowsports as well as soft goods for cycling, skiing, snowboarding, and even helmets for winter sports. They also produce a line of some of the best mtb flat shoes on the market.
Giro Jacket II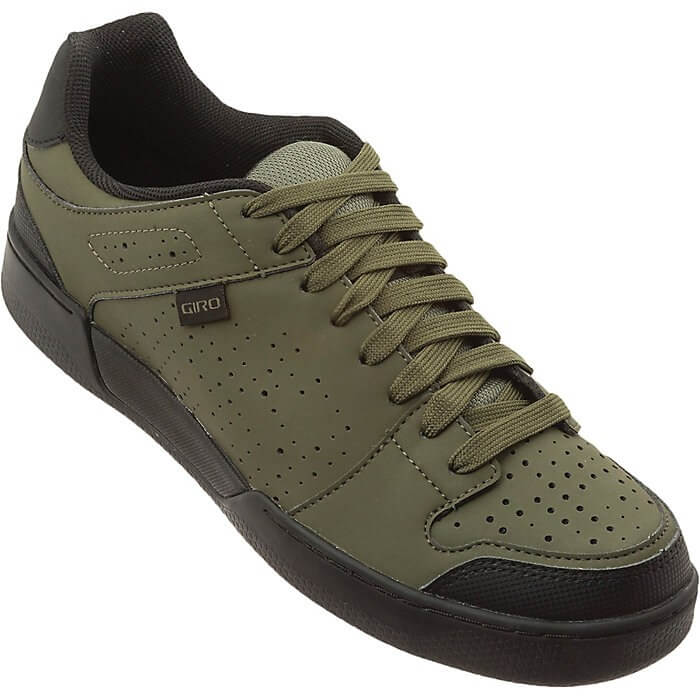 Like all good designers such as Apple, looks are just as important as function. The Giro Jacket II are as fashion forward as they are functional on the trails. The upper is made with water-resistant and breathable microfibre allowing your feet plenty of breathing room. Out of the box, they're incredibly grippy. The only issue is that the gum sole wears out quickly, leaving large gaps where the pins are on your pedals. For only $89, these are a great option if you want to look good and ride on the weekends.
Giro Riddance
Being a sneakerhead, if Giro EVER made a limited-edition Riddance shoe, I'd be the first in line to pick one up just from the sheer beauty of its design. Without a Velcro strap to keep the laces away from moving parts like the chain, they solved this issue with an elastic lace keeper. The sole is much firmer than the gummy Giro Jacket II and has a look similar to the Ride Concepts. Not as grippy as the RC's or FIVE TENs, they still give you a decent amount of traction if you like a looser feel when riding. In the end, I think they're the best looking shoe of the bunch, but unfortunately don't perform as well as the other models on this list.
Latch
One of the biggest beefs most mountain bikers had about Giro's Riddance is the weight of them. If you look at some of the other shoes on this list, they have a waffle-like pattern or the inverted form of it. You sacrifice on the traction but at the same time make them last longer since it's a harder rubber. As soon as you look at the sole of the Latch, you'll notice that this isn't the case. Giro worked with a rubber compound specialist to create their 'Tack Rubber' into their "Gamma" tread pattern. What you're given is a shoe that once it sticks to the pedal it ain't comin' off regardless of rain, snow, or sun.
Shimano
This Japanese company has been in the game for more than a century. For the first product, founder Shozaburo Shimano focused on building free wheels. Over the years they expanded to include many of the key components of a bike—the shifters, hubs, cranks and even the derailleurs. And now they've expanded into making mountain bike flat pedal shoes.
Shimano GR Series
Just a few years ago, Shimano's offering for gravity-fed riders was let's just say a bit dull. It feels like now they applied their attention to detail on things like their cranks and put it right on these shoes. For starters, their soles are designed specifically to fit and excel with their own flat pedals. Does it mean it won't work with others? Absolutely not but now these shoes' treads line up seamlessly to the Shimano's Deore XT and Saint flat pedal models.
GR5, GR7, & GR9
Like all other brands on this list, their product line is divided up based on base models up to the most performance focused. The GR5 is their base model and uses their proprietary rubber on the outsole. As you would assume, the GR7 & GR9 build upon that. For starters, both upgrade the rubber and grip with rubber provided by Michelin. The GR7 includes additional ankle padding and finally the GR9 adds a lace shield and a speed lacing system. Another unique take on the shoe line-up is that Shimano has also debuted the ET7, a flat pedal shoe designed for e-MTB riders.
Leatt
How companies start is always interesting. Some see a gap in the market. Others are about the stoke of the sport. Leatt, on the other hand, is an emotional story. On the weekend after Dr Leatt's son started motocross, he witnessed the death of fellow rider and friend Mr. Alan Selby. Immediately he began working on a way to reduce neck injuries and came out with his first neck brace a year later. In 2010, he came out with the 1st MTB specific neck brace and continued to expand their product line to include mountain bike helmets and now shoes.
1.0, 2.0, 3.0… Flat Mountain Bike Shoe
What it lacks in creative naming it more than makes up in look and styling. Each of the models provide a bit different functions based on your needs. The 1.0 is like the skate shoe. It provides a great connection to the bike but minimal on other features like protection. And the 4.0 and 5.0 are their clipless models. The 2.0 and 3.0 use Leatt's own rubber recipe RideGrip that keeps the foot dialed in for excellent pedal grip.
Differences Between The 2.0 And 3.0
From there, that's where the differences become more prevalent. The 2.0 is focused on the more casual rider balancing comfort AND performance. The upper toe and heel boxes are reinforced, and the heel is shaped to hold the top of your ankle locked in. While the feel of the shoe on the bike is more of a soft-medium hardness, the 3.0's are their performance shoe. Stiffer in torsion flex and a focus on protection on the inside of ankle, both will do you well. You just have to consider what kind of riding you'll be doing.
Fi'zi:k
Let's be honest, Italians know how to make shoes. They aren't just manufacturers but artisans. Founded in 1996, Fi'zi:k's were designed in the US and built in Italy by the world's largest saddle manufacturer, Selle Royal. Fi'zi:k is the phonetic spelling of the word physique, referring to the form or state of the human body.
Animal Kingdom
Since the beginning, they've been doing things a bit differently. When they initially released their saddles, they classified the based on three animals. The Chameleon. The Snake. And last not least, the Bull. As you would assume, each corresponded to your level of flexibility. Despite the naming conventions going "extinct", they still focus on producing the lightest possible products with a keen eye towards design. These aren't just any shoes but rather a group of individuals that are passionate about what they produce. If you care about attention to detail, you may seriously consider picking up a pair made by them.
Gravita Versor Flat Cycling Shoe
Speaking of build quality, as soon as you see a pair of Gravita Versor's you'll notice their attention to detail. How each stitch is thought out and articulated. The sole meshes with the upper and the potential point of contact on the side has extra grip and protection. That the laces are offset towards the outside of the shoe to ensure that they avoid the chainring. A rip-stop material to make them lightweight and quick-drying. And where you'll most likely collide with obstacles, they've reinforced the toe and heel areas with a PU-laminated (polyurethane) toecap and rubber bumpers.
Gravita Tensor Flat Cycling Shoe
Their flag ship shoe, the Tensor, takes what you see in the Versor and adds a bit more fashion and functional flair to it. The toe cap is a bit more beefy. A velcro lace-up closure makes sure that the laces are tucked away. Finally, to put the frosting on the cake, the upper section features an Ariaprene sock sewed perfectly into the shoe to keep any debris from getting in.
As we continue to research more on who makes the best mtb flat shoes on the market, we'll continue to add to this article. Until then, let us know if there's anything we're missing or a brand / shoe models we should add.