No matter the suspension, the most important part connecting you to the bike are your feet. Despite people spending thousands of dollars on a mountain bike, many skimp on what connects them to the bike. If you're looking for the next step in upgrading your experience, we recommend looking at picking the right shoe. Here's what to look for in the best mtb flat shoes.
Clipless or Flat Pedal That Is The Question
Before we jump into the best shoes, here's a little about the ongoing debate between clipless and flat pedals. Personally, we're just starting out on our experience of mountain biking. If you need some encouragement or inspiration, consider reading Fear and Horror… That's How I Got Into Mountain Biking. Anything that can help our confidence is key when trying to tackle terrain. Things like rocks, boulders, tree stumps, and many other obstacles you'd find out on a single track. Flat pedals give you the opportunity to put the foot down easily and stop a bit quicker. You may scratch your shins, but at least you can dismount or get off the bike easily.
An Ode To Clipless
All that being said, for those that grew up road cycling or just want the advantage of less work pedaling up a mountain, you may want to consider at least going clipless. For steep hills with varying gradients, clipless allow for an increased upstroke and about 10% more power for short bursts. For more about the science behind it, check out this article by Pedal Chile.
Not All Shoes Are The Same
I know there's a lot of people out there that think one pair of shoes is all you need. Heck, I grew up with a father that believed a pair of Keds worked for everything and anything. It wasn't until I started looking at the mechanics of sports that I realized that isn't necessarily true.
Would You Put Racing Slicks On & Go Four Wheeling?
While you don't need a different pair of shoes for EVERY sport you do, it is a good idea to understand WHAT you need to maximize your balance and control in an activity. For example, in jogging you want a shoe that cushions against the pounding on asphalt to reduce injuries like shin splints. For tennis, it's all about quick side-to-side lateral movements so you need support on the inside AND outside the foot. Just like a pair of tires on a car, would you put on racing slicks and go four wheeling? I think not.
Conditions You Ride In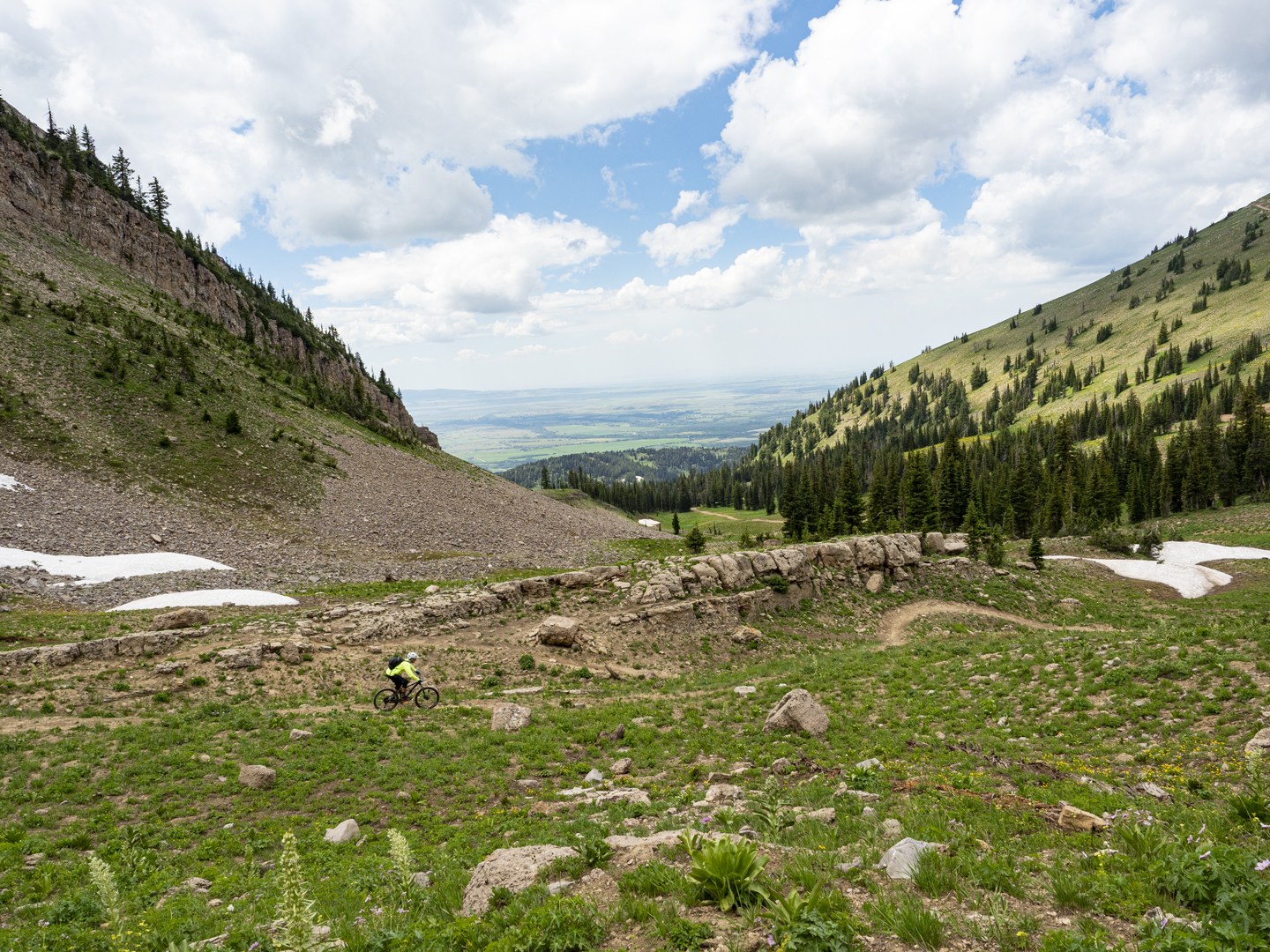 So, what makes for the best mtb flat shoes that you'd use with pedals? Let's break it down scientifically. Normally when you're out riding, you aren't exploding from turn to turn in milliseconds. You want a zero-balance (i.e. not too far forward or backward) when riding. You're in conditions that might be muddy, dusty, or off-camber making traction important.
What To Look For In A Mountain Bike Shoe
If you put all these things together, you want a shoe that is pretty much flat. Next you'll want a sticky rubber sole pattern that won't slip once it's on the pedal. And to round it off, the upper part should be snug and stiff so that you don't loss energy during pedaling. In short, you want a 4WD-like shoe that will lock you in on unforgiving terrain but still be comfortable.
Are Mountain Bike Shoes Worth It?
The question then arises do you NEED a specific pair of the best mtb flat shoes? It depends. We started out on a pair of skate shoes, and they worked well for the first year. They were grippy, provided some support, and were flat-balanced meaning they didn't naturally have us leaning forward. But when we switched to a pair of true mountain bike shoes along with real pedals… Whoa!
First, before you buy a pair of shoes, consider checking out our mountain bike essentials section in the Down & Dirty mountain biking guide. There's so many options to help step up your game like pedals or a seat dropper.
Flat Pedal Mountain Bike Shoes
Here's a breakdown of the main brands that have specifically designed a flat pedal shoe. From the big household names for cycling like Giro to the niche brands that only focus on mountain biking, you'll find what you want out of this list.
Ride Concepts
Our mountain bike coach Dylan Renn put us onto this company. While it's important to make a great product, to us the story of how the company was founded is almost as crucial. There's a lot of corporations that step into an industry only because they see an opportunity to make a quick buck and use their millions of dollars to beat out the competition. That's not Ride Concepts.
How Ride Concepts Idea Was Born
This company based out of Truckee, California was an idea born out of necessity. CEO Brandon Dodd saw that nobody was making quality mountain bike shoes that would fit kid's feet appropriately. It was when he was up at Whistler's bike park that he noticed kids. In fact, A LOT of kids. He also noticed that women didn't have any good options.
Founded in 2016
And thus, the idea was born. Already with a two-decade background in the action sports goods/action industry, he had the resume to make it happen. And so in 2016, RC came out with 14 models. As you may have noticed, we're BIG fans of this company and ride their shoes every time we get in the saddle.
Livewire
The Ride Concepts Livewire is a great all-mountain shoe. The upper is made of quick-drying materials that if you do hit a creek or a rain storm, those feet will dry off quickly. The waffle-like sole grabs onto our Black Kat Deity pedals like a grizzly bear. The construction is like a roman coliseum, still solid after years of riding them. Are there grippier shoes? Sure. More comfortable? Maybe. But for only a $100, this shoe is a steal with what it provides compared to the other big hitters on this list. All that being said, if you have the extra cash, consider picking up the premium line of theirs called the Ride Concepts Hellion.
Ride Concepts Hellion
The next level to the Livewire is the Ride Concepts Hellion Model. An additional $30 never looked so good. Stiff-soled to make pedaling effortless. The investment goes to the upper half of the shoe. Made out of a material that wicks away moisture even faster than the Livewire.
Ride Concepts Powerline
The Jeep Wrangler Rubicon of their shoes. If you feel like the Livewire or Hellion aren't as sticky as you want, the Ride Concepts Powerline turns it up a notch. These mountain goats of shoes are designed that even the most hardcore adventure requiring hike-a-bike situations will still keep your feet comfortable and happy.
PEARL iZUMi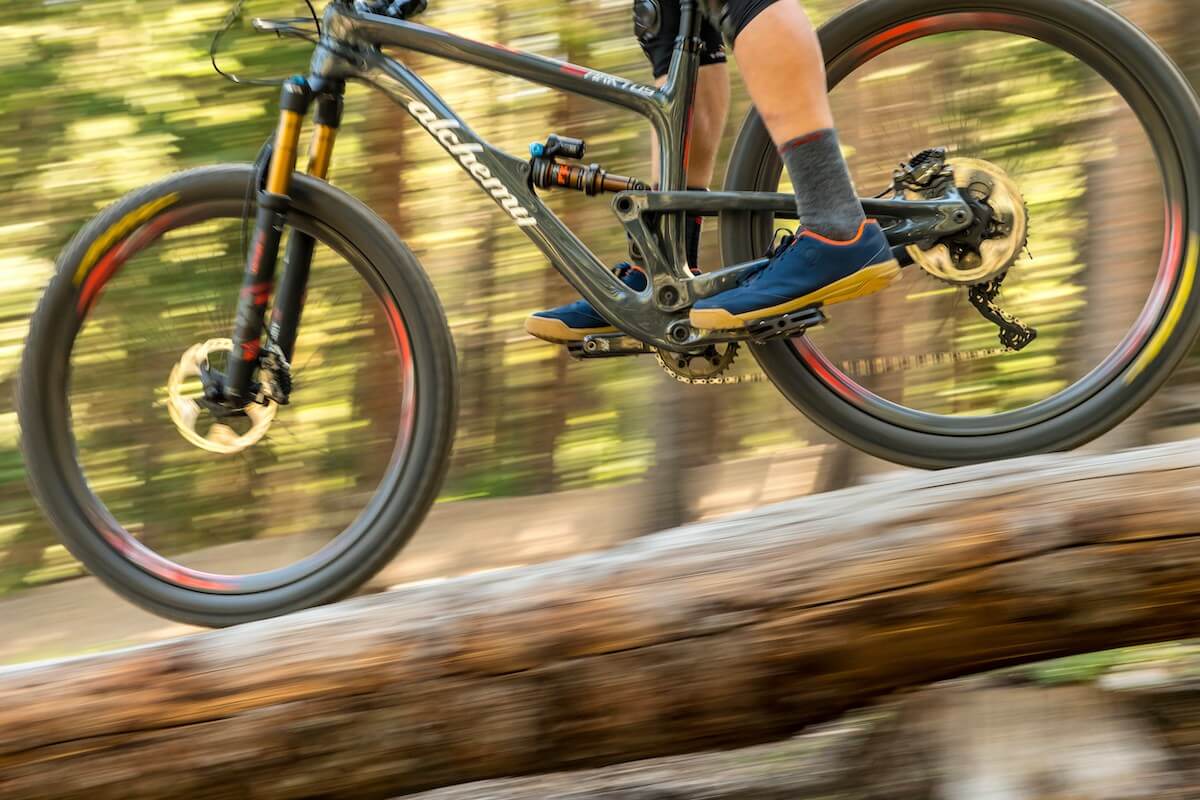 The story of PEARL iZUMi starts on the roads in Japan. Kinji Shimizu rode his bike everyday 38 miles to deliver 90 pounds of clothing to his customers. In 1964, one of his sons Hiro made it to the Japanese national cycling team and rode in the Asian Cycling Championships.
Fate Leads To The Company Being Created
The team ordered the typical cotton kits except for one special one. As fate would have it, Hiro won the opportunity to wear the special jersey. It was made in Italy and out of 100% nylon unlike anything he'd seen before. Based on that design, Kinji created his first kit from materials he found in Japan.
Innovation Continues
Over the past five decades, the company continues to strive for innovation, and in 2018, they've embraced social purpose. Their pledge is now to "Ride more and do more." They've always lead the industry in social responsibility, but now they're taking it to another level.
Ride More and Do More
A good example of this social awakening is the removal of hangtags. This new initiative alone uses 19,400 lbs less paper, saving 165 trees, 68,082 gallons of water, and 4,503 gallons of oil annually. If you want to read more about what the company is doing, check out this article in SNEWS. Along with all this hard work, they produce an assortment of the best mtb flat shoes on the market.
X-Alp Flow
One of the biggest issues for mountain biking shoes is they're not very comfortable once you get of your steed. The firmness can be unbearable walking around. PEARL iZUMi's X-Alp Flow is a great option for those that want comfort on AND off the bike. They'll give good grip on the pins and still feel nice walking around in. This dexterity in both worlds removes some of the absorption the other stiffer models have that you see on our list.
X-Alp Launch
If you haven't noticed, each of these brands have the "basic" line which aren't perfect but do 90% of what you ask of them. Then there's the next level or two that pushes their company's innovation to the fullest. This is the X-Alp Launch for PEARL iZUMi. Still focused on providing a shoe that will work on and off the bike, it's quite a bit lighter and has additional stiffness to turn things up a bit. For those that want an all-day shoe that can take on moderately technical terrain, this is an awesome option.
FIVE TEN
Five ten literally created and set the bar when it comes to making the best mtb flat shoes. It all started in '85 when Charles Cole made a rock climbing shoe called the "Five Tennie." This shoe was designed to help him conquer the toughest walls he frequented in Yosemite and Joshua Park. For those unaware, climbs are based on the Yosemite Decimal system, and at the time, the most advanced climbs were demarcated as 5.10 and thus the name FIVE TEN was born.
Transition To Mountain Biking
The shoe became the staple for rock climbing due to its incredibly grippy rubber. Around the late nineties, they began to hear that pro mountain bike racers were already using their shoes in the world cup circuit. So, in 2000, FIVE TEN came out with their first ever mountain bike shoe using their ground-breaking stealth rubber. And in November 2011, Adidas bought the company for $25 Million.
FIVE TEN FREERIDER DLX
If you're a fan of classic skate shoe design, you'll love the Freerider DLX. The solid construction makes for a shoe that can take a beating and keep on ticking. And it still comes with the classic Stealth S1 Rubber dot pattern that kicked FIVE TEN into the #1 brand for mountain biking.
FIVE TEN FREERIDER PRO
This is the descendent of the popular Freerider or you could even say the evolutionary cousin to it. You could call this the Swiss Army knife of their best mtb flat shoes the Freerider Pro. The toe box is extra fortified so that if an errant rocks hits your feet, it keeps those toes happy. Just like James Bond, its good looks along with its deadly skills make for the ultimate "killer" on the trail or at the bar.
Giro
When I first heard the company name "Giro", I thought it was an Italian company. I mean one of the triple crown tours in Italy is called "Giro d' Italia." After doing some research, I learned it was an American company born from a person passionate about the sport of cycling and saw an opportunity to create something special.
Once-in-a Lifetime Product
The same year Charles Cole created the rock-climbing shoe, in a small one bedroom apartment in San Jose a man by the name of Jim Gentes started the evolution of cycling helmets. Using his industrial designer skills and passion for cycling, he created the "standard" of what cycling helmets are today. Back then, compared to all other helmets on the market, his design wasn't hot, heavy, or uncomfortable. Rather, it was half the weight of his competitors, had ventilation, and looked totally different.
Versatile Company
Always on the forefront of what's going on in the two-wheeled world, over the years they have expanded beyond just bike helmets. Giro manufactures things like goggles for MTB and snowsports as well as soft goods for cycling, skiing, snowboarding and even helmets for winter sports. They also produce a line of some of the best mtb flat shoes on the market.
Giro Jacket II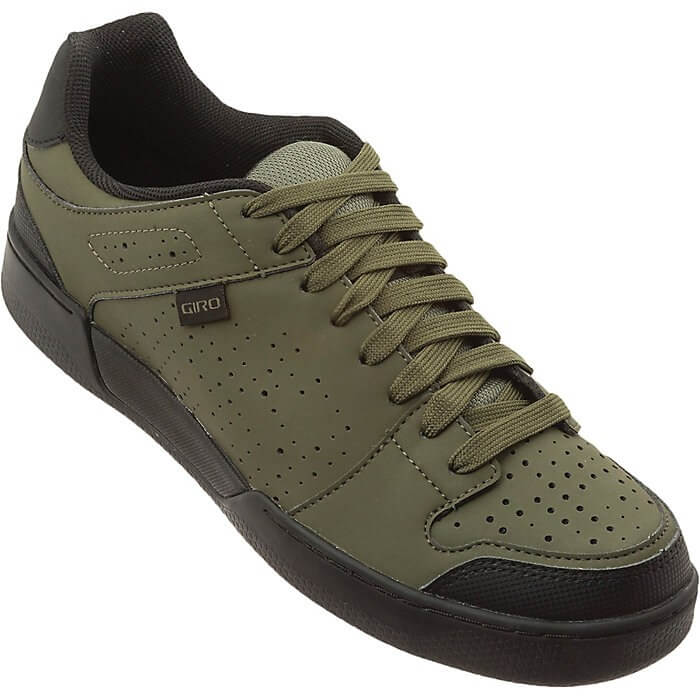 Like all good designers such as Apple, looks are just as important as function. The Giro Jacket II are as fashion forward as they are functional on the trails. The upper is made with water-resistant and breathable microfibre allowing your feet plenty of breathing room. Out of the box, they're incredibly grippy. The only issue is that the gum sole wears out quickly, leaving large gaps where the pins are on your pedals. For only $89, these are a great option if you want to look good and ride on the weekends.
Giro Riddance
Being a sneakerhead, if Giro EVER made a limited-edition Riddance shoe, I'd be the first in line to pick one up just from the sheer beauty of its design. Without a Velcro strap to keep the laces away from moving parts like the chain, they solved this issue with an elastic lace keeper. The sole is much firmer than the gummy Giro Jacket II and has a look similar to the Ride Concepts. Not as grippy as the RC's or FIVE TENs, they still give you a decent amount of traction if you like a looser feel when riding. In the end, I think they're the best looking shoe of the bunch, but unfortunately don't perform as well as the other models on this list.
As we continue to research more on who makes the best mtb flat shoes on the market, we'll continue to add to this article. Until then, let us know if there's anything we're missing or a brand / shoe models we should add.