Over the past few years, we've really gotten into mountain biking. Fresh berms, complex rock gardens, and lots of exploration. And as such, we've started to delve into all the technology on how to make climbing easier and the descent even more fun. From mountain bike essentials to carry, shoes designed for it, and even bike chain lubes, we feel like we're just hitting the tip of the iceberg. Our latest research? What goes into the best mountain bike tires and who makes them.
Geeking Out On Mountain Biking
We don't consider ourselves the "experts" but rather fortunate enough to have access to mentors and teachers in the sport. Instead of keeping what we learn on our journey secret, we've created a home-page that gives you access to EVERYTHING which can be found here:
Why We Began Researching Tires
As spring transitions into summer, the trail riding in Tahoe becomes a bit dusty. Months of no rain and plenty of sun means our surface becomes more like moon dust and less like Velcro. This has caused A LOT of frustration. Although technique goes A LONG way in these types of conditions, our local bike shop Over The Edge opened up our eyes to the world of tires.
Tire Pressure – Recommended Is For Suckers
First things first, before we jump into the best mountain bike tires, we need to delve into tire pressure. Even though the sidewalls have a "recommended pressure", this is in fact not what you want to run them at.
Less Is More
You would think that running a higher tire pressure would make it easier to pedal. In off-road terrain, that's untrue. Uneven singletrack filled with dirt, rocks, stones, and roots will make an over-inflated tire bounce around making it A LOT more work. A less inflated tire can wrap around an obstacle or roll over small rocks and debris making for a smoother ride and therefore less work.
Not TOO Low. Not TOO High.
There are a lot of people that run ridiculously low tire pressures in the low teens. If you're a heavier person or aggressively ride, this can translate to easily smashing your rims. And too high a pressure and you'll lose traction control and create more effort. You need to strike a perfect balance. It's always good to veer towards softer in any case.
Figuring Out The Right Pressure
At a minimum, your rear tire should be about 4 PSI more than your front. This is because most of your weight is on the seat and transfers to the back. A good place to start if you ride a 27.5 inch tire with a tube is to run 32 PSI in the rear and 28 in the front. For a tubeless tire, begin with 26 in the back and 22 for the front. From there, set off on a ride and see if you want to go even lower. In summary, there's A LOT of variables to consider when determining the right pressure for you. If you want to learn more about how to figure it out or hear what local legends are riding read our article: Never Fold Under Pressure For Mountain Bike Tires Finding The Right PSI.
A Few Additional Tire Pressure Points
We can't say this enough – check your tire pressure religiously. No matter if you're riding the best mountain bike tires on the market, tire pressure can change drastically. It's a good idea to ALWAYS check your tires before every ride. One last thing, be aware that major changes in elevation (i.e. going from sea level to 5,000 feet or vice versa) can affect tire pressure too.
What You Sittin' On – Tire Size & Width
When it comes to identifying your mountain bike tire, there are two dimensions that you focus on: diameter and width. The wheel size speaks about the height of it when standing up. This includes the tire AND spokes. The width refers to the measurement from one sidewall to the other.
Diameter
On the market you'll find three different diameters: 26, 27.5 (i.e. 650b), and 29 inches. The 26-inch was the industry standard for many, many years but nearly all companies have moved away from them. Most models you see nowadays will come with a 27.5- or 29-inch wheel instead.
What's The Best Diameter?
Just like all things in this world, it depends on what you want to use it for. A 26 inch helps you accelerate faster and is more agile. As you go bigger, the tire needs more effort to accelerate but you gain two other things due to the size. The tire will keep its momentum for longer AND make it easier for you to roll over obstacles such as granite boulders and downed trees.
Stuck With What Ya Got
In spite of all that, you can't switch the diameter size on your bike. Companies manufacture their frames to specifically fit a 26, 27.5, or a 29-inch wheel. Even though it might be possible to change to a different diameter, it's not a good idea. If you want to change diameters, buy a new bike.
Width
Now width on the other hand you can play with. This is where people really geek on picking the best mountain bike tires for them. Depending on the type of terrain and conditions you'll be riding, this will be a very crucial thing to consider.
Type Of Riding
In addition to terrain and conditions another aspect to consider when picking widths is which mountain biking discipline will you use it for. If you're focused on "XC", you'll want to look for a tire that's a bit narrower between 1.9" to 2.25". For Enduro/All-Trail, meaning you'll be sampling some technical trails as well as doing some pedaling, a 2.25" to 2.4" is a good idea. Lastly, if you're all about the adrenaline downhill variety, it's about beef and going wide with a 2.5" tire is a good choice.
Just Like Pontiac – Wider Is Better
Remember those old Pontiac car commercials toting that "wider is better." It's true in mountain biking for a variety of reasons. Although narrower varieties are lighter, wider tires especially tubeless ones provide dampening and extra suspension when hitting bumpy terrain. Also, you can even ride a bit lower tire pressure due to the beefier width.
Mullet It Up – Party Up Front; Business In Back
Having said that, wider is better. You don't have to go with one size. When we first heard this, our minds were blown. Wouldn't that affect balance? Different width tires on the same bike. Absolutely not! Rather, the front tire is focused on battling, sliding, and gripping its way over features. This one should be the wider of the two. The rear tire, on the other hand, is focused on rolling. On the back, it's a good idea to be narrower than what you're rocking in the front.
A Good Size To Start With
In our experience, if you're looking for one set of wheels to rule them all, there's a solution for that. Attack rock gardens. Roll decently through flowy single track. And climb uneven terrain with ease. The formula is focus on grip in the front and rolling in the rear. If that's the case, start with a beefy 2.5-inch-wide rolling thunder in the front and smaller one like a 2.35 or even 2.4 inch in the back.
Look At Product Page
One final thing to consider when picking the width of a tire, be sure to check the bike manufacturer's product page on the maximum width. We learned the hard way for Jaime. When we picked up a thick 2.5 inch for the rear and threw it on, we realized it wouldn't fit.
Gettin' Knobby Wit It
Another thing to consider when choosing the best mountain bike tires for you is the tread pattern. As we've said earlier, your lead wheel is focused on control while the back is there to enjoy the ride. Front focus on patterns that provide maximum traction. Rear is about some grip but primarily about helping you roll faster.
What To Look For In The Front
For the front tire, look for an aggressive tread pattern. Think 4X4 truck tires. Lots of big lugs that are widely spaced will help in muddy as well as sandy terrain. Keep an eye for lugs on the side as well. These are designed to help provide extra grippiness in corners.
Rear Tire Characteristics
Now the tailing tire is focusing on helping you roll as fast as possible but still give you the traction you need in corners and uneven terrain. They do this by providing a pronounced tread pattern but with more compacted knobs in the center. You may even see ramped lugs on them. These rubber knobs stick up and slant rearward which help lower the resistance and roll faster.
How To Identify A Front Or Rear Tire?
If you feel a bit overwhelmed on figuring out which one should be a front or rear, don't worry. All mountain bike tire manufacturers specifically design tires for the front AND back. For example, Maxxis marks their Minion model with DHF for Front and DHR for the rear.
Rubber Compounds
This is one of the features of tires that is VERY preference based. Tire brands spend A LOT of time trying to figure out how to maximize grip, minimize rolling resistance, AND make it last longer. They do this by playing with the rubber they're made of. One way to identify the quality of rubber, you'll see the acronym TPI next to it. This means threads per inch.
Deep Dive On TPI
A premium rubber will run in the 120 TPI range. Made out of a softer compound, it provides you an insane amount of grip. The problem though is it won't last as long AND is incredibly expensive. Less TPI will make the rubber harder, helping you roll faster and last longer. But as we said above, you'll sacrifice traction control. We typically ride with a 60 TPI range allowing us to still have traction but it lasts for a while.
One additional thing of note is that bike manufacturers are continually playing with their rubber compound recipe so even if you know the TPI, it can vary on how long a tire lasts. A good example is WTB. The "Fast Rolling" models use a firmer compound while the "High Grip" uses softer rubber.
Protection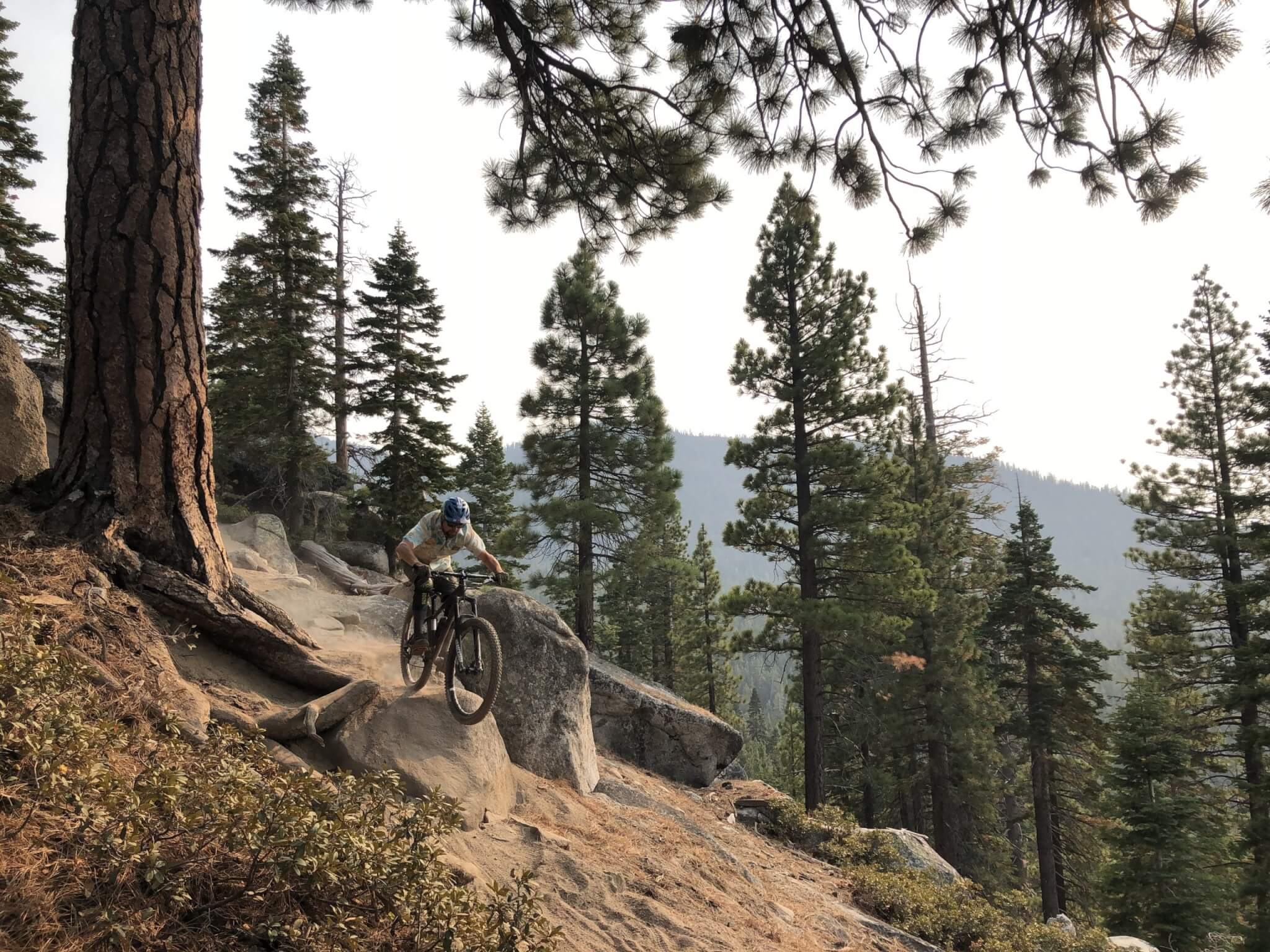 Some people are brutal to the rubber that touches the ground or they try to push the limits by hitting the gnarliest stuff out there. Harder rubber will help with some protection, but it won't help in a pinch… literally.
If you live in a place that has lots of jagged rocks and sharp vegetation, it's a good idea to look for a 2-ply. This is when there is an extra layer just underneath the tread. Some offer extra protection only on the sidewalls. Others, it's a full-on shale-proof vest from rim to rim. Just like anything else we talk about, it comes down to the type of terrain you're riding and if you're ok with it being a little heavier.
Terrain Considerations
We've hinted a bit about the type of trails you ride above, but we wanted to delve a little deeper on this.
Wet Climates
If you live and shred primarily in places with a wet climate like Washington and New England, you'll find super wet trails that are rooty and the rocks are slippery. Stay away from fast rolling even on the rear. When it's always damp, you'll want to sacrifice speed and get some extra traction.
Dry Climates
For locations that don't get rain for months like Tahoe or located in a desert, the terrain can be a mixed bag. Some dusty conditions with decent traction but certain sections could contain decomposed granite or moondust. You'll want to consider having a wide front tire with lots of grip and a faster rolling rear to help you in those zones that do have traction.
Nirvana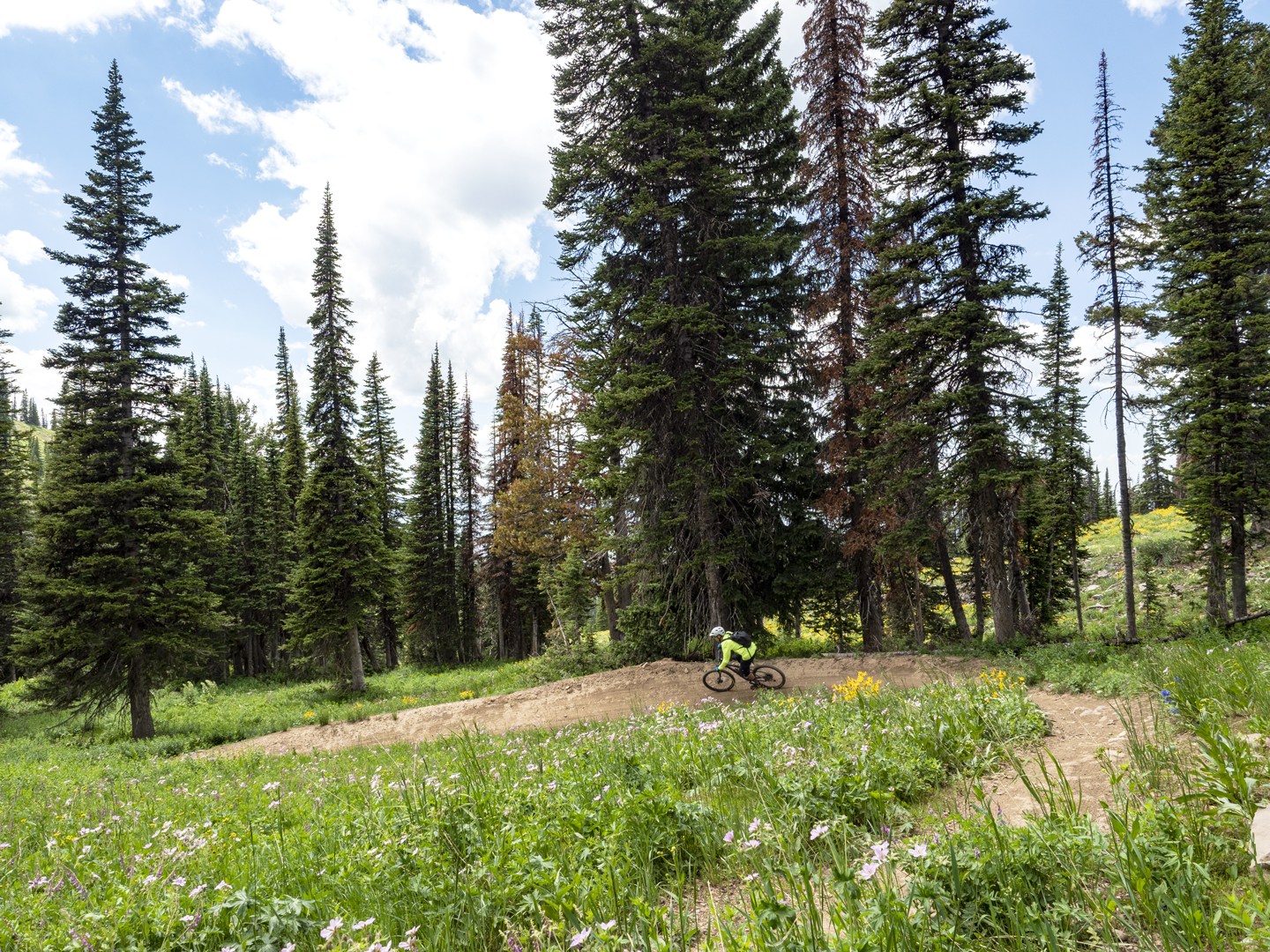 And then there are places of Nirvana for mountain biking. A location that either has grippy rocks or a climate with just enough rain to keep the trails moist and sticky but not too much. This is when you don't need to be as serious about traction control. Places like Angel Fire, the Tetons, and even Moab come to mind.
Brand Overview
Now that you got an introduction on what to look for in the best mountain bike tires, let's delve into some of our local shop's favorite brands and models.
Maxxis
How could we have this list without naming the MOST popular brand on the market. Founded in 1967, they started by making bike tires for the country of Taiwan. To this day, they are still the largest manufacturer of bike tires in the world.
Minion DHR II (Rear)
Depending on who you ask, DHR stands for Downhill Rear or Race. For many, the Maxxis Minion are the gold standard that all other brands are compared to. The DHR is a hybrid of their High Roller II and DHF. The focus is on giving you great rolling speed and yet great handling. They do this by having the center lugs be perpendicular to the direction of travel and having a large ramp. So good that some even run these in the front too.
Minion DHF (Front)
Standing for Downhill Front, they are knobbier and blockier than the DHR. Upon closer inspection, you'll notice that the side lugs are very similar between the DHR and Maxxis DHF. The difference is in the center. Here you'll see beefy center lugs with a big space in between them giving you extra traction in cornering.
Be aware that they offer a variety of options within these two models. From a rubber compound perspective: 3C MaxxTerra, 3C MaxxGrip, and Super Tacky. For protection: Single-ply, DoubleDown, and DH casings are available.
Schwalbe
Founded in 1922, this German company is all about providing you a premium product. Although their focus is on commuting and touring models, they do offer some of the best mountain biking tires on the market. For starters, they are incredibly light, supposedly about a 1/4 lb less than its competitors. It also has some unbelievably soft rubber giving you a bit of extra grip in that regard. But that comes with a hefty price tag.
With that softness, our friends at Over The Edge tell us that they burn quick. We've heard recently that they've listened to the mountain biking community and upgraded their rubber to meet the singletrack via the new Addix compound.
Magic Mary (Front)
When it comes to the most popular tire on the World Cup, circuit it's the Schwalbe Magic Mary. They're very versatile but really shine in softer (i.e. muddy) and humid climates. A great front tire and can be reasonably used in the back as well.
Hans Dampf (Rear)
The Schwalbe Hans Dampf name roughly translates to a "handyman." As the name alludes, it's focused on providing you a bit of everything so you can take on the trails with confidence. This model comes with an extra layer of protection to resist punctures as well.
WTB
Also known as Wilderness Trail Bikes, they were founded in '82 in the birthplace of modern mountain biking – Marin County. If you want to learn about the deep history here, be sure to check out the film Klunkerz – A Film About Mountain Bikes. As such, out of all the tire brands listed, these are designed to take the biggest amount of abuse. Think of them as the Rocky Balboa of wheels. Heavy, burly, and will take ANYTHING that you throw at them.
Vigilante (Front)
About a half pound heavier than the Maxxis DHF, the Vigilante backs it up by being long lasting and nearly indestructible. This tire is the epitome of a great all-rounded for an aggressive enduro rider. If you're worried about traction, this model will do the trick especially in cornering. It lasts a long time and has fantastic braking traction. In WTB's words, these were designed to "need to race in European Enduro events." And it does so like a vigilante.
Trail Boss (Rear)
Similar to the Vigilante, this beauty tips the scale towards being a heavyweight. What you lose in being feather weight such as being a bit slower rolling than its competitors, you gain in protection and stability. If you're typically not going through serious rock gardens or trails strewn with sharp objects, you might consider the Trail Boss an over kill.
Michelin
Despite Michelin being the 2nd largest manufacturer of rubber tires in the world, their delving into the mountain biking game has been… interesting. Decades ago, they came out with the legendary mint ice cream green Wildgripper to great fanfare. But as time continued, they spent less on R&D and marketing slowly faded away from people's memories and lost out to innovation. Now they're back and better than ever!
Wild Enduro (Front)
With millions of R&D in everything from cars to motorsport, you know they have a lot of innovation that they can transfer over to their models in mountain biking, and it shows in the Michelin Wild Enduro. The front variety has thick minimally siped knobs that allow it to grip corners like a serrated knife in nearly all conditions.
Wild Enduro (Rear)
Another difference compared to other brands, Michelin's Wild Enduro comes in front and rear versions under the same name. The rear tire even with its low profile still does provide more traction than you'd expect and so you sacrifice a bit on reducing that rolling resistance.
In summary, it's a bit heavier than others on the market. You'll be glad that they sacrificed a bit on weight to add to the beefiness. The Wild Enduro is a great option if you want great protection, unbelievable traction, and yet not be a beef cake in weight. Who wouldn't want to roll up to a trailhead with a Michelin man on your tire?
Vittoria
Another big brand in the cycling game is Vittoria. It's their proprietary blend of rubber that pushes them to the forefront. As they say, the proof is in the pudding, and they've done so by winning A LOT in major cycling events from the Tour de France to the World Cup in mountain biking. Before 2015, you may have heard of their MTB line GEAX which has now consolidated back into the Vittoria product line.
Mazza (Front)
Just like a steaming cup of espresso, these tires are sharp and to the point in corners and braking. If you need control, this is a few steps above the Minion DHF in cornering and grip. Some even have gone so far as to call Mazza the "Minion Killer." Just like other tires with aggressive tread patterns, you sacrifice it in rolling resistance. A serious contender to think about if you like traction and durability.
Agarro (Rear)
Vittoria stands steadfast that you COULD run the Mazza in both front and rear. They've designed it that way, but if you're looking for a less aggressive version, the Agarro may fit the bill. It works well if you log a ton of miles and focus more on XC rides. Unfortunately due to its thinner casing, you increase the chances of puncturing it in technical terrain.
Specialized
Even when mountain biking was still in its infancy, Specialized came out with the first mass-produced model out there – The Stumpjumper in 1981. Nearly four decades of innovation later, Specialized is still coming out with new varieties of this model. Along with their bikes, they produce everything from socks to helmets and of course mountain bike tires.
Butcher GRID (Front)
Over the past few years, they've been investing in upgrading their tire offerings including their leading model the Butcher. In the value-based price range, they're a serious contender to the tried-and-true Maxxis Minions. The Grid refers to the extra protection on the sidewall and is worth the extra few bucks. Not as beefy as a WTB, but you'll be glad it doesn't weigh in at the weight either.
Purgatory (Rear)
If you throw this on the back, don't worry… you won't be living in Purgatory as you ascend. Rather, you'll be removing the feeling of it. Striking a perfect balance between grip, rolling resistance, and protection against punctures, nearly anyone would be happy to use this version as their daily driver.
How Do You Know If A Tire Is Ready To Be Replaced
Alright, so now you have a set of wheels you're rocking that you're ok with. The question is when is it time to start thinking about replacing them? One of the primary spots you'll see wear and tear showing it's time to cop a new pair of shoes is side knob deterioration. If you see the knobs starting to splinter off, you're losing traction in the turns. Another symptom to look for is if you can see threads through the sidewall. And if you're going tubeless, if you're starting to see a lot of sealant seeping onto the sidewall and you can't hold air as well, the time has come.
Other Brands To Be Aware Of
In addition to the ones we've called out above, there are a WHOLE host of other brands to be aware of. Continental's Der Kaiser is literally everywhere and their Trail King and MTN King II are for those looking for a budget friendly option. Then there's Bontrager, a subsidiary of Trek. The SE4 and SE5 are their decent offerings.
As you can see, picking a set of the best mountain bike tires is less about who is truly the best but rather what YOU think is. We hope you feel more informed, and if there's anything that we're missing, be sure to let us know! We're always open to suggestions. Until then, keep the rubber side down and may all your trails be tacky.