We've talked about the best mountain bike sunglasses. We delved deep into what to look for in mountain bike tires. Heck, we've even given you the run-down on all the best kicks to rock on your bike. Now it's time to drop some science on the best mtb flat pedals on the market.
Types Of Pedals
In the world of mountain biking, there are two types of pedals. Flat or platform pedals. These are the ones where you can stand on them with a regular shoe. And the second style are clipless. These are the pedals where you need a special shoe that you "Click" into.
Why Are They Called Clipless?
I know what you're thinking. If you "clip" into a pedal, why would it be called "clipless?" To answer this question, we need to take the way back machine to when these were invented. When the 1st company who made them came out with their product, another innovation was already out there for bike pedals – toe clips. Toe clips are attached to the front of the pedal and work with straps to keep your foot locked in. To differentiate their product from the toe clips, they called theirs clipless.
Clipless Or Flat… The Never-Ending Story
Since LOOK came out with the clipless pedal, the argument of which is better has been a longstanding discussion between cyclists. Each have their pros and cons. Flat pedals give you the opportunity to remove your feet whenever you feel like it. You don't need special shoes. On the flipside, clipless are more efficient from a pedaling perspective. And in rough terrain, you're locked in so you continue to stay on the bike throughout complex obstacles. Like all things, it all comes down to matter of preference. Personally, we're fans of flat pedals especially that we're continually trying to improve our riding.
Like Fighting A Greased Pig
I can tell you from personal experience that the generic pedals our bikes came with were garbage. Absolutely horrible. It was like standing on a beer-soaked dance floor. In mountain biking, traction is critical, and there was none to be had. It didn't help we were wearing normal gym shoes as well. It wasn't until our mountain biking coach and mentor showed us the light, and boy was he right!
What To Look For
Now that we've piqued your curiosity, we know what your next question is. What makes for the best mtb flat pedals? For some, it's all about reduction in weight. Personally, our #1 priority after grip is durability. We beat the crap out of all our equipment. It needs to take rock strikes like a champ. Stand up to physical abuse and dusty conditions like Rocky Balboa. Be easy to swap out and clean parts like bearings and pins. Another feature to consider if you live in a region that gets lots of rain is how good is its mud shedding abilities. Are there open spaces in the pedals to easily let dirt and debris fly through?
Metal Or Composite?
With regards to engineering, there are two basic materials used in the best mtb flat pedals on the market – composite or metal. Composite are crafted with a various assortment of plastics and nylons. Metal ones, on the other hand, are typically made with aluminum or steel. Similar to snowboard bindings, picking which one to go with comes down to preference.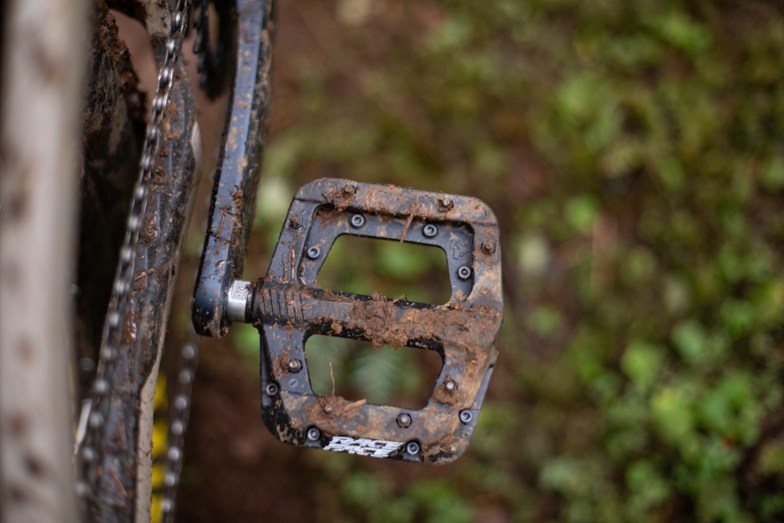 Normally, composite pedals are budget friendly but still provide decent traction. Metal is the opposite and are pricier. They're stiffer which leads to more power transfer. They're more durable and can take a rock strike without getting gouged or scraped. Personally, we LOVE the metal ones over composites. They feel like you're more part of the bike.
Go As Big As Possible
Some folks will tell you to not go too big. Not to go too small. Personally, we haven't gotten a flat pedal yet that I'm like "oh, that's too big." The bigger the platform, the more area you can balance on. Jaime rides a size 9 women's shoe and LOVES her Black Kat Deity Pedals which are known for their big base. This helps her focus on the terrain and less on worrying about slipping off the pedal. With that being said, a few provide different sizes, so for those brands, pick one that fits your shoe size.
The Downside Of Too Big
Now on other side of the argument, we have friends that swear if you go too big, you'll get hung up on obstacles. This hasn't been an issue for us, but I could see that being a problem if you're a person that hits features at Mach 10. I will admit though, if the pedal has too large a platform for your mountain bike shoes, you won't take full advantage of all the pins on it. This will lead to a feeling of slippy-ness.
"Shapely" Pedals
Although they're defined as "flat", it may come as a shocker that some of them do have some shape. In fact, if you hop in any mountain biking forum, you'll probably see a lively debate between flat versus concave. Based on research from the experts, the "shapely" concave are the best mtb flat pedals for traction. On the other hand, flat pedal fans love the lower center of gravity and added clearance of obstacles. Is one truly better than the other? It depends on what you're looking for in a pedal. An example of the Flat/Slightly Convex shape is the OneUp Components Aluminum Pedal. For a concave version, check out the Deity T-Mac.
Cleats For Mountain Biking
Outdoor athletes that play sports like baseball, football, and soccer have cleats on the bottom of their shoes to provide traction. In that same vein, the best mtb flat pedals have traction pins in them that stick out. You want one with at least 10-12 pins on each side. Some come with molded pins for their grip, typically the budget friendly composites. While others, such as premium high-end pedals normally made of metal, have pins that you can replace AND adjust. This gives you the ability to fine-tune the grip of your pedals by lowering or raising each pin. We know riders that are fanatics about this and tweak them based on where the pin is on the pedal. Higher on the inside and lower on the outside.
Local Freshies® Tip: Be sure to check those pins every so often since they can break or fall off on a ride. We've had this happen a few times.
Pick A "Local" Brand
If you typically get your bike serviced by a local shop, consider picking a brand that they sell. For example, when one of our Black Kate Deity pedals got an uncontrollable squeak, they couldn't fix it. The pedal bearings needed to be replaced and unfortunately required a special tool used only for Deity pedals. Luckily, Deity's customer service is awesome so our bike shop could send them directly to the company and get it fixed in a jiffy.
The Lineup
Some we've ridden. Others, our friends own a pair. And a few in this list, our bike shop mechanic has heard good things about. This isn't just a list of the best flat mtb pedals, but rather a guide to help YOU find the best mountain bike pedals for your riding.
OneUp Components Aluminum
Platform Size: 115mm x 105mm
Weight: 355 grams (12.5 oz)
Pins: 10 pins per side
It was love at first sight when I saw the OneUp Components on someone's bike. Their big platform (115mm x 105mm) and sleek profile were just sexy. The graphics are low key making it look as if it quietly murmurs "I'm confident in who I am and will let my work do the talking." Sure enough, as soon as I stepped onto a pair, its 10 pins locked me in. If your idea of the best mtb flat pedals is lots of grip and a thin profile, you'll love 'em. For some, the longer pins may need to be replaced with shorter ones that are a bit less sharp.
Race Face Atlas
Platform Size: 115mm x 105mm
Weight: 355 grams (12.5 oz)
Pins: 10 pins per side
In the same category as the OneUp's above, these are in the upper echelon of quality pedals. They have a big platform at a whopping 115mm x 105mm dimensions. And yet the slender profile and chamfered edges minimizes the amount of contact with obstacles. It may not have a square-ish profile like the OneUp, but don't worry about traction. The Race Face Atlas are machined with a double concave profile ensuring your feet stay put in ANY conditions or terrain.
Race Face Chester
Platform Size: 110mm x 101mm
Weight: 360 grams (12.7 oz)
Pins: 8 pins per side
Our good friend, that literally rides everything that's been thrown at him including Mr. Toad's, loves the Race Face Chester composite pedals for the price. The budget friendly option hits all the checkmarks and gives you decent grip. For starters, all the parts on the pedal such as the bearings are serviceable. You can replace and adjust the 8 pins as well. Are there grippier, lighter, and better pedals? Sure, but not at this price range. The only thing he doesn't like is the hump in the middle where the spindle is housed. Sometimes you feel as though you lost a bit of traction. In summary, for the price this is a MUCH better option than what you normally get on a bike out of the factory.
OneUp Components Composite
Platform Size: 115mm x 105mm
Weight: 355 grams (12.5 oz)
Pins: 10 pins per side
Speaking of composites, another option is to go with the OneUp Components Composite Option. It has the same basic platform size as the aluminum. You still can replace or service any of the critical pieces such as the bearing or pins. It's all just at a fraction of the cost. So what's different? First off, it's a little bit thicker. 18.5mm versus 12mm in the alloy. As we highlighted above about composites, they aren't as durable and with a bigger platform there's a chance you'll ding them. For us, we'd rather pay more for the metal version and have the security that they'll take our beating and keep on pedaling.
Deity Black Kat
Platform Size: 100mm x 100mm
Weight: 402 grams (14.2 oz)
Pins: 8 pins per side
The other half of Local Freshies® has been riding these for years, and she still thinks the Deity Black Kats are the best mtb flat pedals for her. Although it only has eight pins per side, the concave shape makes sure your foot stays where it needs to be. Even with a concave, Deity machines around the spindle in such a way that it's seemingly undetectable. The slightly smaller shape compared to its sibling the T-Mac makes this a good option for those with a smaller foot.
Deity Deftrap
Platform Size: 113mm x 103mm
Weight: 391 grams (13.8 oz)
Pins: 8 pins per side
I have to say the name itself got me interested into researching the Deity Deftrap pedal. These aren't the BMX pedals from your childhood. Like all Deity's products, their attention to detail with regards to traction, shape, and form is outstanding. I don't know how you can make this statement, but they claim that the nylon material used in these is 28% stronger than their competitors. The only thing I don't like is their bland look. But at a fraction of the cost of the aluminum varieties and giving you a whopping 10 pins on each side, these are a steal for composite flat pedals.
Crank Brothers Stamp 7
Platform Size: 100mm x 100 mm (SMALL) 114mm x 111mm (LARGE)
Weight: 345 grams (13.2 oz)
Pins: 10 pins per side
When Crank Brothers came out with this model offering different size pedals for shoe size back in 2015, it set itself apart from its competitors. The small version of the Stamp 7 is designed for those with a size 5-10 shoe size. And the large variety are for those big foots out there with a shoe above a 10. Another differentiator is how flat these are compared to other brands. Most have some sort of shape to them either convex or concave. These bad boys have just a mild one that you can't even notice. Due to this, you can have your foot ANYWHERE on the pedal and feel comfortable. And once you have your foot locked in, it'll make sure that you hold on tight. Another big plus for Crank Brothers is that ALL their pedals come with a 5 year warranty.
The Crank Brothers Stamp 3
Platform Size: 100mm x 100 mm (SMALL) 114mm x 111mm (LARGE)
Weight: 351 grams (12.4oz) (SMALL), 386 grams (13.6oz) (LARGE)
Pins: 10 pins per side
This company understands that there's no such thing as one pedal to rule them all. And so they came out with the Stamp 2 and Stamp 3 models. Still built on the tried and true chassis, these versions are focused on innovating the design of the their pedal by focusing on how it connects to the shoe. By taking the most popular mountain bike shoe brands and sizes, they figured out where weight was being applied and how the focal points of traction land on the pedal.
Shimano PD-M8140 Deore XT
Platform Size: 100mm x 105 mm (SMALL) 115mm x 110mm (LARGE)
Weight: 461 grams (SMALL), 505 grams (LARGE)
Pins: 10 pins per side
What if you want to take a step up from the composites into metal but can't swallow the price? Consider taking a look at the Shimano PD-M8140 Deore XT. Similar to Crank Brothers, they provide different platforms based on your shoe size. From there, that's where they diverge. Colors? Only in battleship grey. Focused on trail and enduro riding, they offer decent grip within Shimano's sturdy construction. One negative is that they give you two options in pin lengths and unfortunately provide you with the short ones inserted which are pretty much useless in most off-trail riding. Are they the best? Not by a long shot, but they'll get the job done.
Chromag Dagga
Platform Size: 120mm x 115mm
Weight: 480 grams (1 lb 0.9 oz)
Pins: 12 pins per side
When I first laid eyes on these, the word that came to me was: AGGRESIVE. Its massively long pins poked out of its body making it resemble something like a bear trap. A whopping 12 pins on EACH side. The girthy body and the emboldened words DAGGA written on it let you know that they mean business. The traction pins are in fact taller. So much so, to accommodate their taller height, they redesigned the pin with a thinner tip and threaded bottom so it LOCKS your foot into the pedal. Focused on providing the most fun on the downhill segments, the platform is a bit wider. At a hefty price point, this should be reserved for those that are heading into some risky riding zones or competing in the Enduro World Series.
Chromag Scarab
Platform Size: 110mm x 108mm
Weight: 430 grams (15.2 oz)
Pins: 10 pins per side
For normal everyday riders, a better option from the Chromag product line would be the Scarab. It still has the beefy concave platform, and although it has "only" 10 pins that are more normal sized, it still provides plenty of grip. If you want to turn up the volume on grippy-ness, they come with spacers to allow you to raise the pins to a whole different level. A mid-wide platform allows you to plant yourself in a stance that you can take on any obstacle with confidence.
Nukeproof Horizon Pro
Platform Size: 100mm x 105mm
Weight: 426 grams
Pins: 10 pins per side
Born out of competition. Forged in the fires of the Enduro World Series. These are the pedals that were designed with five-time downhill world champion and three-time Enduro World Series champion Sam Hill. Simple, direct, and focused on one thing – making your riding better. With 10 pins on each side, once you place your mountain bike shoe on it, don't expect it to move. They're so tacky to the point that it can be challenging to move your foot. Personally, that's too much grip for me. I like the ability to make micro-adjustments on the fly. And at the premium price point, the design is a little too focused on function over form for my taste.
DMR Vault
Platform Size: 105mm x 105mm
Weight: 428 grams
Pins: 11 pins per side
If settling for the best or nothing is less your mantra then DMR would be near the top for the best mtb flat pedals on the market. They've been in the mountain biking game since Palmer was crushing it. 11 pins on each side makes sure your feet stay where you put them in any conditions. The alloy used in the construction of it are the definition of "Bomb-proof." And if you do need to fix something, parts are easy to come by and repairs can be done yourself. On the other hand, they're VERY pricey compared to others on our list and are quite a bit heavier than its compatriots. Are they worth it? If you look at the global market, they'll say, "HELL YEA!" To this day, they're still one of the best-selling flats on the market and have won multiple awards for their design.
You Get What You Pay For
In the mountain bike flat pedal world, the old adage of "you get what you pay for" rings VERY true. Your hands may steer the bike, but it's your feet that are the connection to it. Invest in that link and make sure you get a set that will make you feel confident and truly one with your bike. You won't regret it.
For more about gear, how to get started in mountain biking, or even some off-the-beaten-path mountain biking destinations, visit our homepage: The Down & Dirty On Mountain Biking.
Let us know what you're riding and if there's any pedals we should add to this list.