Summer's here which means more hours of daylight to play outside. While the big golden orb in the sky does make for an amazing day, it's also important to protect your eyes from the UV rays. And the best way to do that is by always wearing a pair of shades. If you're looking for a new pair or just thinking about replacing a set, here's a review of several pairs of Dragon Alliance Sunglasses we tried out.
Consider The Activity
For most casual outdoor enthusiasts, any pair of high-quality sunglasses may work to protect your eyes from UV rays. But if you're passionate about a sport or a given activity, you should think about shades designed specifically for the sport you're trying to enjoy. If you're into mountain biking, be sure to read our article U Might Wear Ur Sunglasses At Night But These Are The Best MTB Glasses to learn what to look for and some of the best ones on the market.
For The Serious Outdoorsiest
Although Dragon Alliance Sunglasses doesn't have a "cheap" offering, their product line does offer the full gambit from the budget conscious to those looking for a "Ferrari" in eyewear. With that being said, all three models we demoed came with a sturdy neoprene case and a soft cloth bag that you can wipe the lenses with. Compared to other sunglasses we've owned and tried, I've never seen a case like this for shades. The only time I've seen this type of case is for snow goggles.
Breakdown Of Dragon's Technology
Like any good eyewear manufacturer, they provide A LOT of options to pick from. Besides the different styles, color of frames, and even the material they're made of, there's a host of unique technologies they provide that are pretty darn cool.
XP Cross-Performance
The first technology we want to delve into is their "XP Cross-Performance" collection. These are identified with an "X" in their name. As anyone knows that's been out touring in the backcountry, paddled on the waters of a lake, or saddled up on a mountain bike, each of these activities creates a unique set of challenges. To overcome these situations, Dragon has created three categories:
Hydra
This is focused on water sports like fishing, boating, or standup paddleboarding to remove the harsh glare the sun throws at you on the water. You'll find the Mariner X and Tidal X within the Hydra group. In addition, to provide even more clarity out on the water, these both are floatable AND have an adjustable strap to make sure you don't lose them while splashing around. Scroll down to the review section to learn more about both of these glasses.
Terra
When you trail run or mountain bike, you cover long distances with a varied amount of terrain and sun exposure. The main key is versatility. Within the Terra category, you'll find the Tracer X and Ridge X. We delve into the Tracer X deeply below.
Glacia
Last but not least are the glasses designed for those who venture into the backcountry. As the term "Glacia" alludes, these are for those who venture into the high alpine and need that extra amount of protection. This includes the Excursion X and Latitude X which both provide removable sunshields as well as interchangeable cable temples.
Lumalens
One of the first things you'll notice on some of the Dragon Alliance sunglasses is they'll have an "LL" next to them. This means that this specific pair uses their Lumalens technology. Think of it as seeing the world in high definition. It helps reduce eye fatigue and provides extra clarity when you need it.
The Tint
You may think all lens colors provide the same technology, but at Dragon they don't. Each variation is designed for a specific weather or location. For example, the Blue Frozen Ion is ideal for deep sea fishing. The darker lens with a very heavy mirror removes the intense light given off on the open ocean so you can catch that prized Marlin. On the other side of the spectrum, the Red Ion is used for conditions that don't have a lot of light. This includes inshore fishing with overcast conditions or at sunrise/sunset.
The Coating
Don't you hate it when you get sunblock, water, or dirt on the lens? If you're lucky, you'll get most of it off, but sometimes they're never the same. Well, Dragon has solved that by adding a lens coating to ALL their lenses making them oleophobic and hydrophobic. This means it repels dust, water, oil, and even suntan lotion.
Polarized
While Lumalens technology adds clarity, the polarized lenses reduce the amount of glare that may come at your eyes from a shiny car hood or a glassy lake. The cool thing is you can find Dragon Alliance sunglasses with both Lumalens AND polarized lenses in one.
Dragon Tracer X LL
For the mountain biker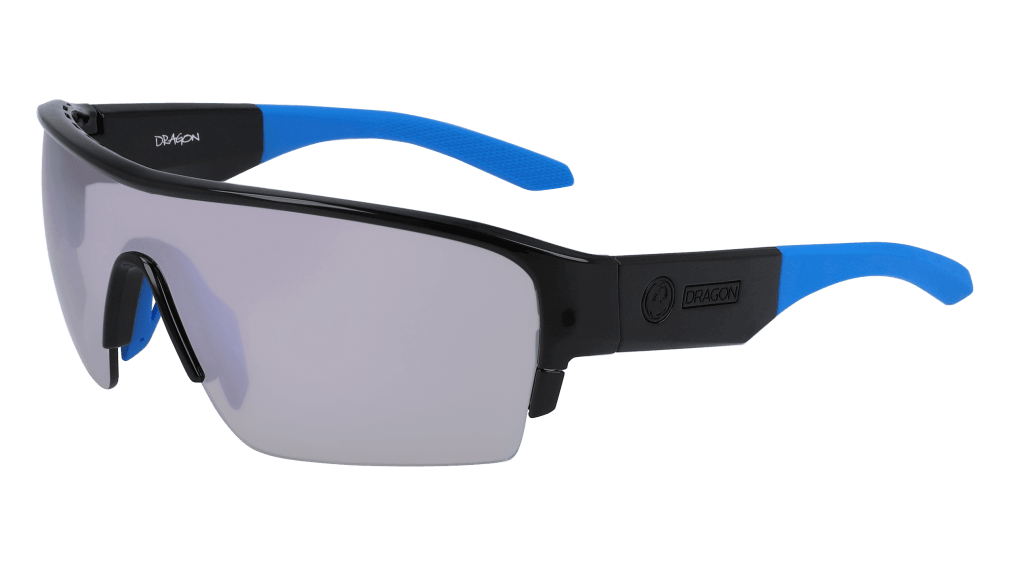 Jaime has always had problems with glare and clarity when mountain biking. Either it was too sunny causing her to squint. Or the canopy of pines shaded the trails making it hard to see the contours. Things come at you at a high rate of speed on a mountain bike and having that extra bit of clarity is a BIG help.
Compared to the other models, the Tracer X you can actually switch the lens via an interchangeable lens system. The first time was a little difficult, but afterwards it became incredibly easy to flip the lenses if need be. In addition to the Lumalens, you're given an extra clear lens for those dark days that you just can't see well.
The way they're designed they let the air flow easily around your face and yet don't cause any eye watering. This keeps you from getting sweaty OR fogging up. Combine that with Lumalens and it's the closest we've felt to wearing snowboard goggles mountain biking. Although the price tag is a bit hefty, you'll definitely be happy with your purchase.
Dragon Tidal X LL Polar
For the Angler
When I read that these glasses help you see fish in the water, I just couldn't believe it. I mean… come on now. But sure enough, when we were on the Owens River in the Eastern Sierra that's exactly what they did. Without the sunglasses, I couldn't see a darn thing below the surface. And with them, it removed the glare and added contrast so that I could see the Trout swimming upstream. Word of caution if you have a larger head (I wear a 7 ¾ hat). The rubberized temple tips were a bit tight on the back of my head after wearing them for twelve hours straight. And yes, they do float.
Dragon Mariner X LL
For the paddler
Instead of a full wraparound design like the Tidal above, these are more relaxed. You can still get them with the Lumalens and Polarized lenses but with a more classic square look that works perfectly for Standup Paddleboarding or any other watersport you enjoy.
As you can see, we fell in love with the Dragon Tracer X LL just because we do a TON of mountain biking. And if you're an aquaphile or a piscator, the Hydra collection is one you should consider especially if you're going to be doing some fly fishing.