When the First Tracks film came out about the Sierra Canyon Trail, it caught our attention. The idea of riding into the historic town of Genoa on our mountain bikes like cowboys was tantalizing. After a long-fought descent, we'd hop off our saddles and mosey on in the oldest bar in Nevada for a cold one. It sounded unreal. This trail was on our radar for a while, but it wasn't until we showed it to our friends that the dream became a reality.

Sierra Canyon: 4,000 Foot Descent to Oldest Bar in Nevada from First Tracks Productions on Vimeo
Weather Delays Our Plans
For the past few weeks, my buddy Noel has been in town gettin' after it in zones like Powerline, Tahoe Mountain and Corral. Each trail has helped him gain confidence in his abilities and acclimate him to the mountains. Little did we know that the Sierra Canyon Trail would test all our skills to the limits. The original plan was to hit it on Saturday but due to equipment malfunctions and unfriendly weather, we had to delay the adventure till Sunday. If you're looking for a warm up or something a little less hairy or more extreme to hit in the area check out our our comprehensive Lake Tahoe Mountain Bike Trail Guide.
Enter Via Kingsbury North Trailhead
From all the information we could gather, it seemed the best option to get to the Sierra Canyon Trail entrance was to park at Kingsbury North and ride up the gravel road next to the Tahoe Rim Trail. From the map, it looked like an easy five-mile ride. Boy were we wrong!
Initial Climb Becomes Longer and Longer…
After the initial half-mile climb out of the Kingsbury North Trailhead, the road gave us a much too short downhill respite. From there, we were back onto another climb. The terrain just didn't let up. While it might've only read a 300'+ vertical climb, it was arduous. Up, down, up, down… it was like a 100 burpees mountain-bike style. For every short downhill, the climbs were long and painful. Due to the sandy soil and rocky outcroppings, all of us had to get off our bikes and walk up multiple climbs. It was frustrating to say the least.
Snow?!?!
As we neared our final turn towards the Sierra Canyon Trail entrance, there stood in front of us massive drifts of snow. Oh boy! Yet another challenge thrown into our path. We navigated around a few of them, but some were so large that we had no choice but to posthole in our shoes and walk our bikes through them. Hopping back onto our bikes, we finally cruised up to the entrance.
The Views Off Of Sierra Canyon Trail Are Insane
Setting our shocks to soft, we drop into the long descent ahead of us. Immediately, we're blown away at the views. Nearly 4,000 vertical feet down, we can see Carson Valley stretching out in the distance with Genoa Peak to our left, still another 700 vertical feet above us. Grinning ear to ear, we slowly meander our way down the trail. The smooth dirt trail quickly transitions into a flat rocky surface.
Shale City – Population Four
Zipping down the mountain, we encounter our first section of shale to cross. A slope of massive blocky boulders are interrupted with a flatt-ish narrow path. From afar, it looks like a flat surface but once you hit it, you get bounced around like a ping pong ball. High in the alpine with nothing blocking our view, the steep thousand-foot drop-off to our right causes my mind to say, "Hell Naw!" My fear of heights is triggered. Instead of riding it, I choose to walk each section of shale out of terror, knowing my mindstate was in the wrong place.
Not Recommended For People With Any Below Average Dental Work
In between each shale section is a rough trail filled with rocks smashed into dirt. The ride is so rough that if you had any loose fillings, they might shake out. We come across switchback after tight switchback. Instead of soft dirt, these turns are built with more rocks and boulders following the curves.
Alpine to Forests
After about a quarter of the way down, we transition from high open alpine terrain to steep tree covered forests. The hits just coming. Gripping the handlebars tight, we keep moving forward taking occasional breaks to give our forearms and backs a rest. After about two hours of descending, we check out the map and realize that we're still only halfway down. Holy crap! Continuing, we notice the shale zones are getting shorter albeit still there.
Loss of Focus Leads To An Accident
Finally getting out of the trees, we enter the grassy zones but have to stop to patch up Noel. Gripping onto the bars so tightly, the skin on his thumbs has rubbed right off. Wrapping them up, he drops into the run with gusto. Suddenly, Shane hears Noel yell "Gonna need some more tape!" We all pull up and see blood dripping down his forearm onto the ground in a fury. Uh oh! Luckily, Shane is a cool cucumber when moutnain-stuff hits the fan. Tossing his bag onto the ground, he pulls out the med kit. He washes out the battle wound and evaluates the situation. The fall created a nasty gash in Noel's forearm. Quickly wrapping it up, Shane says he'll need stitches. Still two miles out, we make the decision just to walk out slowly and try to keep the danger low and limit the bleeding.
Ice Cream Was Promised… and We Delivered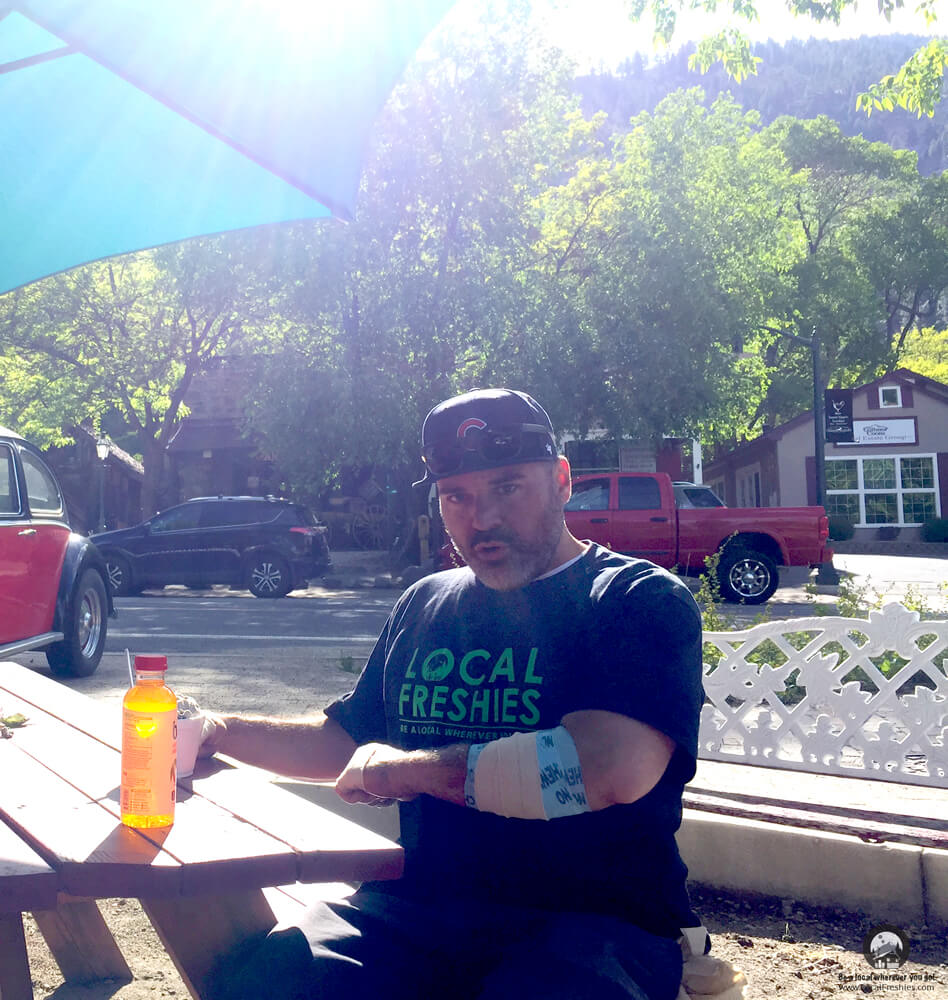 After five hours of riding, we finally make it to the end. Even though Noel needs to be stitched up, he still wants his ice cream. While the Pink House is already closed, we head over to the Genoa Country Store. Sitting down we enjoy local ice cream, we looked up in awe of what we all just accomplished. Nearly ten miles and 4,000 feet above us are the peaks we just rode down. One word: Wow! Is the Sierra Canyon Trail for everyone? Nope. This is one serious trail to even get to let alone ride down. You should be at least a mid-level intermediate. Would we do it again? With miles of smoother trails outside of our doorstep in Lake Tahoe that aren't riddled with shale, most likely that's a no. But, is it worth doing once? Absolutely! If you want a full run-down of the best trails in the area based on your skill level check out our in-depth Lake Tahoe Mountain Bike Trail Guide.
With our ice cream finished, we head over to ER to get our boy sewed up. Eleven stitches later and a bag full of medical paperwork, we ascend back up to Tahoe. Noel quietly looks out window and says, "We did this?!? We actually rode down an entire mountain. Now THAT'S an accomplishment." The mountain may have beaten him but it didn't break his spirit. I'm pretty sure he'll be back in the saddle sooner rather than later. If you want to read more about our endeavors around the shores of Tahoe to the mighty Grand Tetons or get some tips on gear check out our comprehensive guide on all things two wheel related: The Down & Dirty On Mountain Biking.