When looking at clothing that's specifically geared towards backcountry skiing, the first thing you'll notice is the price tag. These jackets are normally hundreds of dollars more than the brand's normal resort ski jacket. I'll be honest… it has taken me YEARS to finally bite bullet and purchase a hard-shell jacket. I was concerned that it wouldn't fit right or that I would have buyer's remorse. Stuck with a $500-$600 coat that I didn't want. After weeks of testing my new Ortovox Ortler 3L jacket in the worst elements, I can tell you I couldn't be happier.
Ortovox – Not A New Kid On The Block
You're always a little leery when it comes to picking up a product that hasn't been around for decades, especially when it comes to backcountry gear. You want things like a ski touring jacket to be bomb proof. The name Ortovox has been a trusted brand for years, but it's been on the avalanche transceiver side. Even so, their genetic makeup as a company over the last three decades is about being in the mountains, and based on that, you know they wouldn't produce an inferior product.
Why Are Ski Touring Jackets SOOOO Expensive?
Looking at the features between a ski touring jacket and one focused on resort skiing, you'll see that the resort product line has a TON more features. It usually has a powder gaiter, loads of zippers, pockets, and even a soft material for your face near your neck. The ski touring variety is the opposite – minimalistic. The cost comes down to the materials used and its construction. How tightly woven the stitches are. How well they tape the seams. And yet it's ULTRA-light. We delve into all these things in detail along with a list of the best brands on the market in Backcountry Ski Jackets Are Like Fries, You Can't Have Just One.
Over Bulk And Being Ill Equipped
When it's been storming or a chance of snow in the forecast, we'd been going out with our resort jacket. It's BRUTALLY heavy, and even though we have a 35L pack, it barely fits inside because of its volume. After we got the Adlerm Maloja soft shell for sunny days and saw how well it worked, it was time to make the leap and purchase the Ortovox 3L Ortler Jacket.
The Leatherman Of Our Ski Jackets
On our 1st day I was flabbergasted how well it did. At the trailhead, you normally start cold so you want to throw on a puffy to keep you warm. But once you embark, you throw it back into your kit since you'll warm up quickly. Due to the Ortovox 3L jacket's smaller fit size, I could easily wear it underneath the puffy jacket or over it. With the wind howling and it snowing sideways, I did just that. I had the puffy on the outside, and once I was ready, I threw the Patagonia nano puff in my pack and was off. And on another day when the temps hovered in the low 20's, I had the puffy underneath yet still provided plenty of flexibility.
Light As A Feather, Strong Like A Bison
Now down to brass tacks – the number one function a hardshell has to do is be waterproof and windproof. Throughout our two-week ski touring trip in Idaho, Mother Nature threw EVERYTHING at us. Heavy gloppy snow, brutal winds, cold temps, and even warm sunny days. The coat kept me perfectly comfortable and dry. All this comes at an incredible light weight of 13.62 ounces, making it one of the lighter models on the market.
A Hard Shell That Breathes?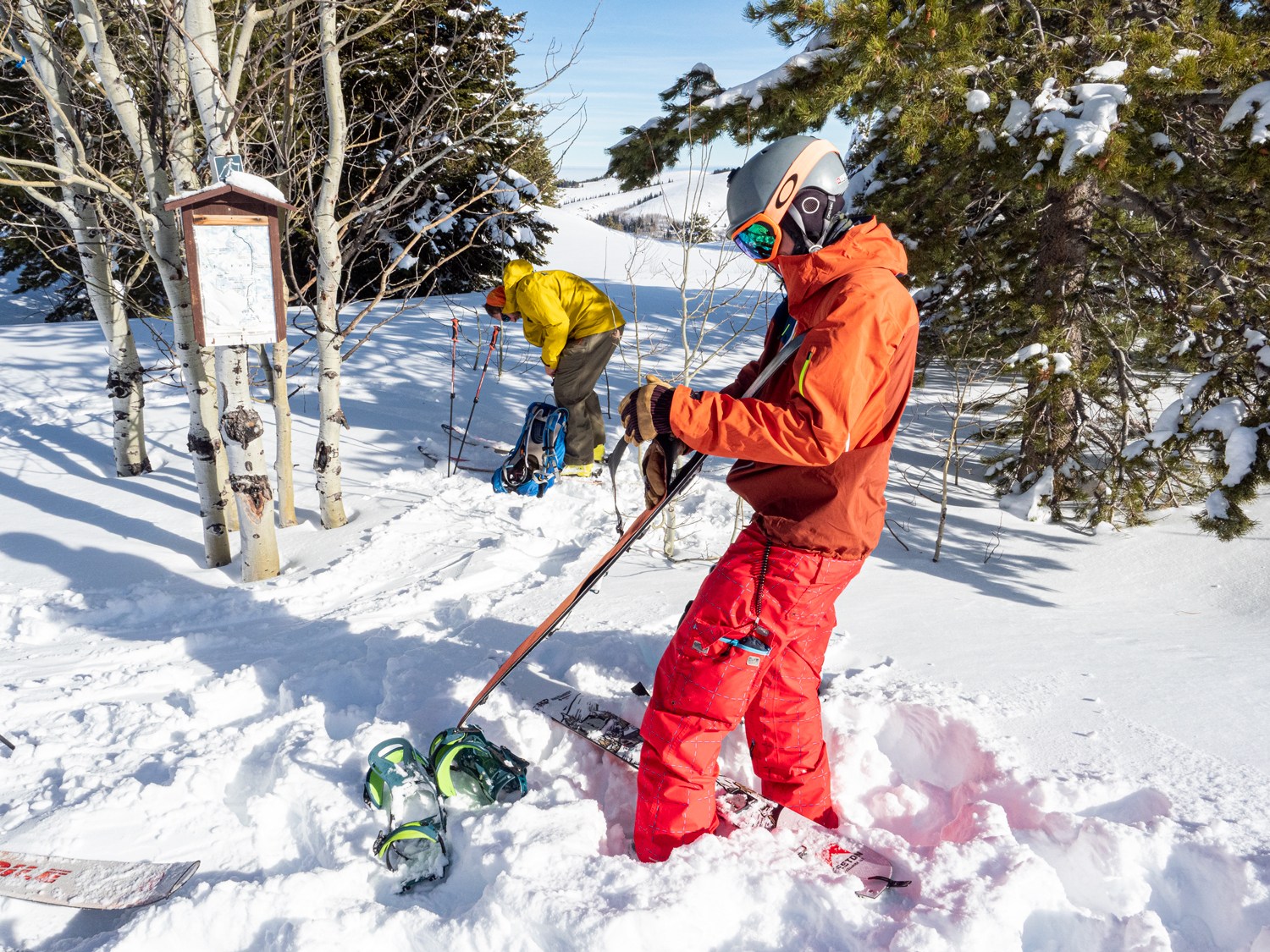 The part that really went above my expectations is its breathability. Hard shells are notorious for protecting you from the elements but terrible when you begin to sweat. The Dermizax NX membrane by Toray inside the Ortler 3L is incredible. It has a 20,000 mm waterproofness, 100% windproof, AND up to 28,000 g/m2 breathability. If you're wondering what all this mumbo jumbo means, we go into detail in Unzip On What To Look For In The Best Womens Snowboard Jackets.
Getting Into A Fight With The Front Zipper
I will tell you the one thing that I don't like about the Ortovox Jacket is the front zipper. Every jacket I've owned has had the slider on the right side and for some reason it's on the left. It makes the zipping up a little more difficult than it needs to be. Is it a deal breaker? Absolutely not. Rather, it will teach me how to be more ambidextrous.
You Get To Support Ukraine
As a first-generation born in the US from Lithuanian immigrants, I've heard the stories from my parents about Russian soldiers storming through the country during WWII. The soldiers trying to assassinate my grandfathers. Burning all books written in Lithuanian. Seeing and reading what's happening in Ukraine right now hits too close to home. The Ortovox Jacket is made in Ukraine, and the opportunity to support them is just the cherry on top.
Even if you aren't going ski touring, I would take a close look at their entire product line. For resort skiers, the Swisswool Sedrun Jacket will keep you warm on those long cold lift rides. The Guardian Shell leans towards more of a person that spends 80% of their time inbounds but wants something that would work well ski touring too. But for us, the Ortovox Ortler 3L jacket is my go to for hardshells.