Everyone who is a skier or snowboarder is chomping at the bit for the snow to fall and to get out there and ride. Is it worth hopping a plane to ride only a couple of runs in the early season? Typically, no. Normally, it's a good idea to save your money and wait a bit until there's a decent amount of terrain open. If you just can't wait or have some extra flyer miles, here's a few things to take into account when ski trip planning as well as the best early season skiing in December.
Best Early Season North American Ski Resorts
What To Look For When Selecting An Early Season Destination
Dense snow – This is one of the few times of year that "Cascade Concrete" or "Sierra Cement" is superior. The Heavy maritime snow may not be "blower," but it sticks to everything! This leads to a better chance for coverage which will allow terrain to open more quickly.
Low Angle – We all love steeps, but it takes a lot of snow to open that kind of terrain. In early season, a ski resort with less steep terrain will be a better option.
What Resorts Fit The Mold?
Wolf Creek
Consistently one of the earliest mountains to open, Wolf Creek is a perfect option for any powder hound. In some years, Wolf Creek can be open by Halloween with nearly all their terrain accessible. The ski area is off the beaten path and doesn't have lodging so take that into account. They do have over 1,600 acres and tons of powder days. Also, after a long day of blower pow, you can hit the world famous Pagosa hot springs, which overlook the San Juan River. Not a bad way to end an amazing trip.
Pros:
Receives the most snow in Colorado.
Hit the hot springs après.
Uncrowded.
Cons:
Difficult to get to.
No lodging on the hill.
Mount Baker
After reading our in-depth post of Mt. Baker, you know this is the mecca for snowboarders. From the open backcountry policy to the famous Mt. Baker banked slalom, this place oozes history. Once they get the mandatory 36 inch base, Mt. Baker can typically open almost all their terrain by opening day.
Pros:
Set the world record for snowfall.
Steep terrain is available opening day.
Cons:
Weather can sometimes be fickle.
Resort can sometimes be crowded.
As of Sunday November 6th, their snowpack at Heather Meadows is around 34″ which could be mean with another good storm or two, Opening Day could be VERY soon.
Mt. Bachelor
Tony Bennett may croon that he left his heart in San Francisco, but for us, our heart is at Mt. Bachelor. Due to its topography of being an extinct volcano, it holds some of the surfiest terrain we've ever ridden. Natural half-pipes, roll-overs, and lips, this place just wants you to lay out a nice carve. And then once the day is done, you can finish off with a nice cold beer at one of the many, many award-winning breweries in town.
Pros:
The overall intermediate pitch and smooth volcanic terrain means once they get a four foot snowpack depth almost the entire mountain can open.
Across more than two decades, by December 1st, the base depth has only been less than 40 inches six times and less than 40 inches by January 1st only 3 times.
Cons:
Secret's out on Bend and Mt. Bachelor. The town has grown to more than 100,000 meaning competition has ratcheted up.
Mt. Bachelor is one of the first mountains to get hit in a storm and that means LOTS of wind. Translation: Summit chair which accesses its steepest terrain is often on a weather hold.
Mammoth Mountain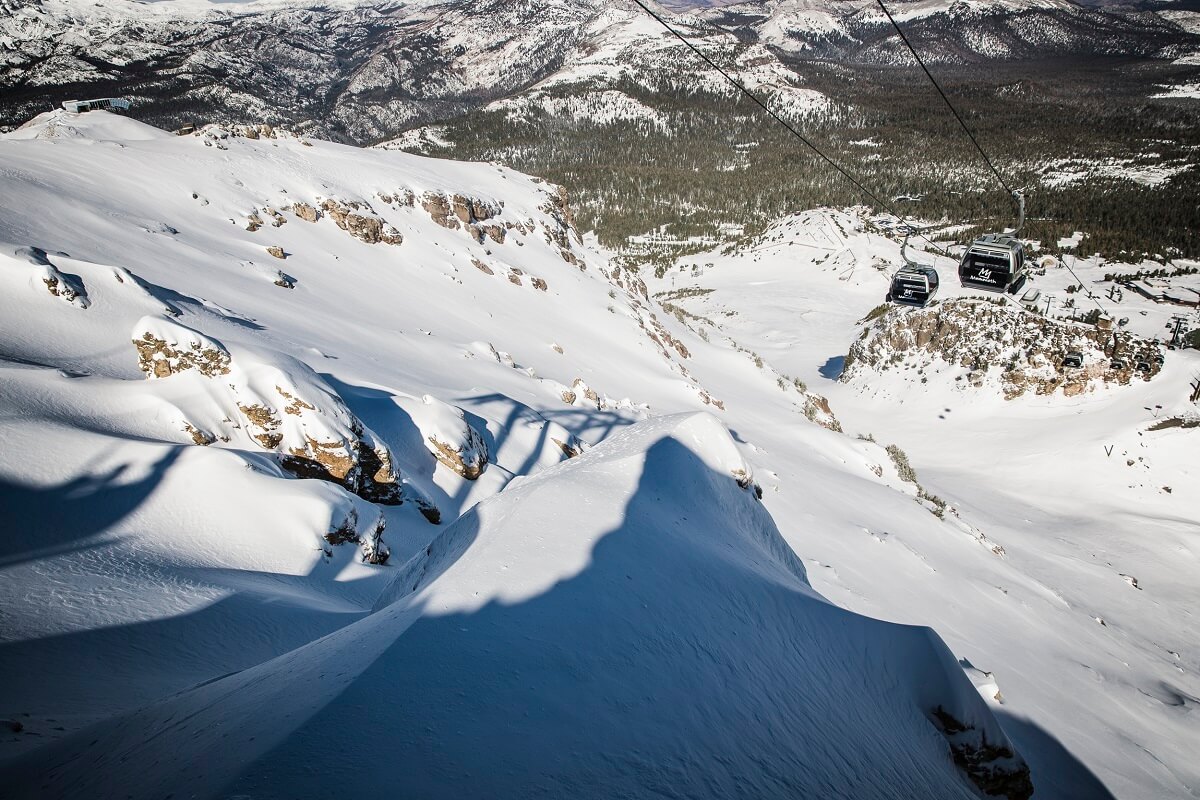 South of the ski and snowboard mecca of Lake Tahoe lies Mammoth Mountain. Three years ago, the season will go down in the record books as the second longest ever for Mammoth. Since this is a maritime snowpack, the mountain is a great early season destination for skiing in December. In past seasons, they've run five chairlifts allowing access to over 50+ trails by Thanksgiving. Mammoth is a large hulking mountain with huge open trails, curves, and rollers. Even early season, there is still a lot to explore and enjoy. On top of it, the region around Mammoth Lakes boasts three amazing breweries: Mammoth Brewing, Black Doubt Brewing, and June Lake Brewing.
This season started out with a BANG! The storm track has set its sights on the Sierra Nevada and doused the entire range allowing Mammoth to open up a full week early. The 2nd week of November has multiple days of big snow coming which could mean A LOT more terrain is going to open soon.
Pros:
Fantastic above tree-line terrain.
3 amazing breweries located in area.
Low likelihood of rain.
Cons:
Can be crowded on weekends due to being the closest major resort to LA.
Grand Targhee
Due to its lower angle terrain when compared to its neighbor Jackson Hole and being located west of the divide, Grand Targhee is one of the most consistent resorts for snowfall in the country. A good option for early season skiing in December. Be sure to set aside an evening to head to the Teton Thai location in Driggs. Our favorite item on the menu is the Bison Pho. Combining high quality Asian ingredients with some thinly sliced game meats makes for an out of this world meal.
Pros:
Mostly moderate angle terrain means they can get the slopes open quickly.
Since they've opened, they're the ONLY ski resort in North America to always be 100% open for Christmas skiing in December.
Over the past two decades, the LOWEST snowfall by January 1st was 76 inches.
Cons:
Not close to any major town.
Whistler
Whistler…need I say more? Voted #1 almost every year with over 8,000 acres, insane terrain and a unique walking only village, Whistler is one-of-a-kind. Other resorts try to imitate but have been unable to duplicate. Typically with a favorable early season storm track, once the snow levels drop in early winter, they get pounded with snow.
Even with a small amount of terrain open, they'll have more options than most mountains in North America. Plus, the village has great dining and entertainment. This is not only great early season but any season! If you do end up in Whistler, be sure to check out Moguls Coffee and tell them we said "Hello!"
Pros:
It's Whistler!
Above tree line skiing.
One of the best car-free villages in North America.
Cons:
Expensive compared to the rest of the mountains on the list.
Until they're 100% open there will be crowds.
Lake Louise
There's a reason why the first North American stop of the World Cup is typically held in Lake Louise around Thanksgiving. Normally open by the first week of November, that's thanks in part to extensive snowmaking and its northerly location where storms usually gift them with a decent snowpack. Regardless of how much terrain is open, just the absolute beauty of the Canadian Rockies is well worth the visit ANY time of year.
Pros:
The unmatched scenery of the Canadian Rockies will make you forget any runs that aren't open.
Always one of the first resorts to open in Canada.
Cons:
Closest major town is Banff over forty five minutes away.
Can be VERY cold around Christmas due to its location.
When picking your early season destination for skiing in December, it's all about watching the storm track, and if possible, waiting for the last moment to make the decision to access the best snow. In the end, all these resorts are great options for getting your legs warmed up as well as a little bit of adventure.